PopEntertainment.com > Feature Interviews - Actresses > Feature Interviews A to E > Dana Davis
DANA DAVIS

MEET THE NEW HEROINE

by JAY S. JACOBS
Copyright ©2007 PopEntertainment.com. All rights reserved. Posted: November 10, 2007.
OUR STORY SO FAR...
Just a year ago, Dana Davis was a passionate viewer of the new series Heroes.
Though she was at the time working on the criminally short-lived series The Nine, Davis and her friends would have Heroes parties for every new episode. The quote on her MySpace page was: "Save the cheerleader. Save the world."
Funny the turns that life takes.
Now, Davis is one of the new stars brought in to the show to help to save the Earth… again.
"I was a fan," Davis recalls, smiling at the irony. "Me and my friends would have Heroes nights. That was our night. Monday night we watched Heroes. I was a big fan, so it was cool to join the cast."
Not that the opportunity isn't something she has been working towards since she moved to Los Angeles in the 90s. Despite the fact that she looks like she's barely out of her teens (and she often plays teenagers), Davis has been in the Hollywood trenches for over a decade, steadily working her way up the ladder.
"I'll just say that I'm older than I look," Davis laughs.
Ever since she got the lead in her first play at seven (for the record, the play was called "The Thankful Elf") it was her unwavering dream. Her mother had taken her to the theater not long before that audition and she was hooked.
"I was just mesmerized by it," Davis says. "I asked her, how can I do that? She signed me up for these little theater classes. I auditioned for my first play when I was seven and got the lead – and I've been doing it ever since…. I just remember having this connection to characters, even as a little kid."
Of course, acting wasn't Davis' only dream in life. She is went through school learning the viola. She also has a classically trained voice. She even sang as part of a band called Necessity. However, there is only so much time in the day and her TV roles quickly made it obvious which direction to go.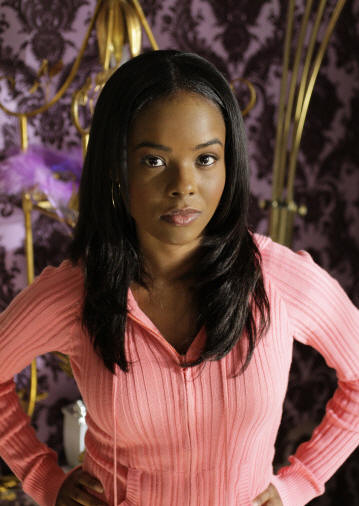 "Acting is sort of taking over," Davis acknowledges. "It really started off as a joint thing. I wanted to do both. I came out here to mostly pursue acting, but I studied music. I play the viola. I played for like twelve years. And I got my degree in classical voice. So music has been a huge part of my life. I just sort of haven't had any time to devote to it lately. Acting has sort of taken center stage in my life."
Of course, it did take a while. Now she has been on TV series like The OC, Veronica Mars, CSI Miami, Joan of Arcadia and Cold Case – as well as being in films like Raise Your Voice with Hilary Duff and Coach Carter with Samuel L. Jackson. Hollywood didn't necessarily great her with open arms, though.
"I came out here in 1997," Davis says. "I started auditioning in '98. I didn't start looking consistently until 2000. I literally went years without getting one part. I would go to hundreds of auditions and I never got anything. I started to get frustrated… but I never questioned what I was meant to do. I just sort of told God, if this is going to take ten years – I'll be here in ten years. If it's going to take twenty – I'll be here twenty. I'm not going anywhere. I sort of got comfortable, even not booking things. I was like; well I'm still going to audition if they'll have me. So by the time 2000 and 2001 rolled around, where I started to get things like Boston Public and The OC and things like that, I had waited long enough. I eased into it and I was so ready for it when it started to happen."
One of her earliest recurring roles was in Gilmore Girls.
"I auditioned for Gilmore Girls so many times," Davis says. "I remember they actually sort of wrote that part in for me, because I auditioned so much and they loved me and couldn't quite find a spot for me. So they brought me in an episode where Rory was having some dating problems. I think it was a Valentine's Day episode. She and Paris needed advice. I was the girl at school who knew all about love and romance. They kind of cornered me at lunch and I gave them all this advice – at like 100 miles per hour. It was just so fast on Gilmore Girls. You have to talk really fast. The director was like, 'Dana, let's do it again, but faster.'" She laughs. "I remember being like – oh my God; I can't talk any faster than this. Then they brought me back for another episode as the same character, who just sort of was showing people around the campus."
She also co-starred in the movie Raise Your Voice with Hilary Duff, which allowed Davis to indulge in both her acting and musical talents.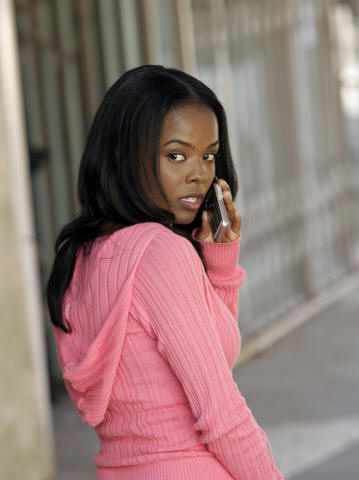 "Sometimes it works out like that," Davis says. "I know that the Heroes producers have sat down and talked with me about maybe incorporating my musical gifts into the show. And with Raise Your Voice, I got to do a little playing. Sometimes it works out like that. I can only hope that it gets bigger and bigger, because I would love to incorporate more of that into my work."
Davis then got a regular role on the UPN comedy One On One. All this experience led to her big break – playing the bank manager's daughter who gets caught in a hostage situation in the critically acclaimed series The Nine. Despite a terrific ensemble cast and wonderful reviews, anemic ratings assured the show didn't make it halfway through the season.
"I felt like The Nine was marketed as a bang-bang-shoot-'em-up cop hostage drama," Davis says. "Really, it wasn't that. It was a story about people. I think it just didn't find its audience because of that – it was marketed towards men and really it was a show for women. So it never found its audience. I was disappointed, but I felt really good about the thirteen episodes we did. I made life-long connections. To this day, I keep in touch with Chi McBride, Owain Yeoman who played Lucas. Nothing but great things came from it. I look back on it as wonderful. I'm sorry it didn't last longer, but for what it did last I think it did amazing things."
Amazing things, but intense. Her character was held captive, possibly sexually assaulted, retreated into herself and got a case of Stockholm syndrome – where a captive starts to identify with the captor. It was a harrowing mindset to visit on a daily basis.
"It's hard, because I was playing a character who was young – she was sixteen. I just think a child's perspective on that is going to be a little bit different than the way an adult would take it. I think God makes kids a little bit more resilient than adults. So it was difficult – especially because I loved my cast so much and I wanted to laugh and joke with them, but sort of had to go to that dark place whenever I was at work because my character was so burdened. A lot of times I kind of checked out. Just really focusing and trying to be really true to who Felicia was. It was challenging. I'm excited that I play a character that is a little bit more light-hearted now, because I can have more fun and laugh and joke on the set."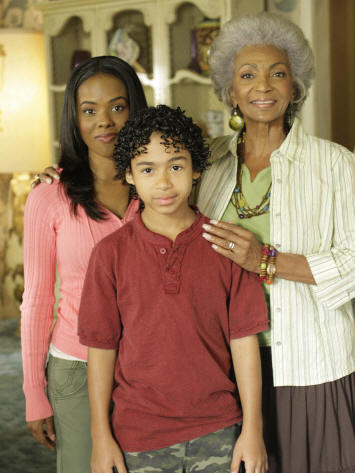 That lighter character is Monica Dawson – a New Orleans waitress who has had to temporarily give up college to survive in the post-Katrina Big Easy. Her mother was killed during the floods (no word as of yet what happened to her father). She lives with her grandmother, who is played by legendary Sci-Fi actress Nichelle Nichols (who played Lt. Uhura on the original Star Trek.) She is entered into the world of Heroes when the family takes in a cousin – a little boy named Micah (Noah Gray-Cabey) who helped to save New York in the first season.
It was an amazing thrill for Davis to start working on the show – and yet it was also a little intimidating to be the new kid in town.
"I felt like a senior in high school and it was your second semester and you had to change schools," Davis admits. "That's how I felt. It was kind of stressful. I wanted to prove myself and make myself known. But I was the new kid on the block, so it's hard. The cast was really, really great – and all the producers. Everybody was very welcoming. So really – it was just my own thing. I was nervous and it was hard. I came into it as a fan. I had such respect for the actors. They'd already established themselves as something amazing and great. You come into it and you have to establish yourself too. They have a high standard on the show. I wanted to live up to that expectation. Now that it's been a while, I'm having more fun. The nerves are gone and now I can just go to work and enjoy the moment."
As with so many people on the series, it seems that Monica has a special power – one that she doesn't understand or really even notice as she starts on the show. However, quickly it becomes difficult to ignore. She is a mimic. If she sees someone do something – like judo or skipping rope or cooking – she absorbs the talent. Without even realizing it, she can use these skills – and do it perfectly.
Not a bad power to have, and one that Davis frankly acknowledges that in real life, she would not necessarily use for the greater good.
"Oh, I'd totally be selfish," Davis laughs. "I'd join the NBA. I'd want to impress all the men in my family and the men in the world. I've always wanted to slam-dunk and I've always been in awe of the athletic ability of basketball players. It's amazing. I would do something like that. I would go to karate tournaments." She chuckles again. "I would just be like the greatest athlete in the world."
The power is not unique to her, though. In one of Davis' first episodes, Monica's little cousin showed her a comic book in which the heroine has the same power that she has. That's got to be significant, right?
"Absolutely," Davis agrees. However, she won't spill how it fits in. "I can't say too much. There is a very strong connection between Monica and St. Joan."
So what can Davis tell us about the future of Monica Dawson?
"Well we can expect her to start running up with some of the other heroes," Davis says. "We can also expect – Monica is going a place where no NBC hero has gone before. It hasn't been done yet on Heroes. So, that's where Monica is going. It's very exciting and action packed. I think the fans have been dying for some action on Heroes and I think Monica is going to bring it to them."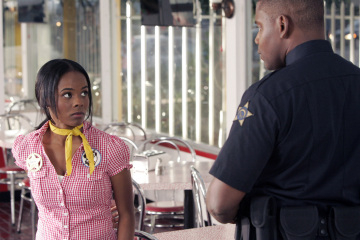 As Davis experienced with The Nine, serial dramas rarely last long enough for people to settle in and learn what is happening. Heroes has a particularly dense and difficult storyline – not to mention that entire scenes are done in Japanese or Spanish with subtitles. As both a fan and now a member of the cast, Davis has a theory about why the show struck a chord with people.
"I think the Sci-Fi thing is just this phenomenon," Davis says. "Sci-Fi fans don't get that often. You get Spider-Man and you get your Superman VI, but that comes out once every two years. With Heroes, you get it once a week. I think that's awesome for the fans. That's one of the things. Another thing is just this visit into this surreal world. Life can be hard. You've got dramas and your own stresses. You get this chance to escape into this world that isn't reality. It's fun. I think that's what's so great about it."
Escaping reality also rings true for her role. The fact that Monica's character is rebuilding her life in the wreckage of New Orleans adds another interesting layer to her – one that Davis acknowledges should not be over-analyzed.
"I think that it's not really trying to be political," Davis says. "We don't want to beat people over the head with it. What they're really trying to do is restore a little bit of hope to a community that has lost a lot. People from New Orleans can go, 'Hey, that's us.' They can have a little bit more hope and believe a little bit more. I watched a documentary once where they asked Spike Lee if he believed that New Orleans could be rebuilt, and he said, 'I don't know.' I think with little things like this, more people will say yes. They'll start believing again. It starts with small things."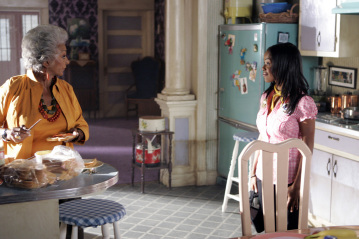 Monica's home life also lets Davis deal with one of her heroines – Nichelle Nichols, who broke through so many walls in her historic role on Star Trek. In early episodes, Davis and Nichols did not get that many scenes together, however Davis is glad to report that as the season moves on she is sharing more and more screen-time with the actress.
"She's fantastic," Davis says enthusiastically. "I came into it as a fan of Nichelle. I was super, super excited to work with her. We're starting episode thirteen, and I get to have a lot more scenes with her. She's coming into it more. She's a joy to work with. Everyone kind of looks up to her, respects her. It's funny; she can ask one simple question to the director and the set will get quiet out of respect. Not only do we respect her, we want to hear what she has to say, too. It's nice to be around such a legend."
Of course how long she gets to live this fantasy is always up in the air, though Davis hopes to have a long run in the role. Still, Heroes has a history of main characters being killed off. Therefore, Davis has a healthy and rational attitude about such a possibility.
"On a show like Heroes," she says, "if that happens – then you've done a year on Heroes and you couldn't ask for anything more. So if anything like that does happen and I see the grim reaper outside my trailer, it's like I've had such a good ride. It's not like another show. It's just so much fun and you get so much from it that you really don't think about it like that."
In the meantime, while she enjoys the Heroes experience she is also looking forward in her career. She has recently finished a co-starring role in the thriller Prom Night with Brittany Show (of American Dreams and Hairspray). The movie is not – despite numerous reports to the contrary – a remake of the 70s horror film of the same name.
"The funny thing is, Prom Night – the original one with Jamie Lee Curtis – has already been remade. The movie I Know What You Did Last Summer – that is actually a remake of Prom Night. That's the same story. Ours is an original script. We did purchase the name, but that's about it. That's the only thing it has in common. It's a totally original idea. It is a thriller. It's a horror slash thriller. It's not the traditional blood, guts and gore you get from most horror movies. The story is more important. It's just basically there's a slasher on the loose. It's set with the backdrop of this amazing Hollywood-style prom. The prom of all proms. It's so exciting. Designer dresses and it's like – just to shoot it was so amazing to me. When I walked into the room where we shot the prom scene, it was beautiful. I'm like; no one's prom looks like this. So basically, that's the movie in a nutshell. It's pure fun. It's PG-13, so it's for all ages."
Somehow that fits for Davis. As an actress she enjoys visiting the glitz and glamour of that prom, but in real life she's more comfortable with a much simpler lifestyle.
"I'm really, really down to earth," Davis says. "I'm from Iowa – born and raised in Iowa. My idea of a good time is to play Nintendo with my niece and nephew. I love hanging out with my friends and having game night. Me and my friends will have our traditional game night and play Scattergories and crazy things. I'm just not the typical… I don't like going to red carpet events and getting dressed up. I just would rather take a walk, go hiking. I'm so normal." She laughs. "I'm too normal. Going to the red carpet events and stuff like that… I should do that more. But I always would much rather make it a Blockbuster night."
Davis also looks forward to the time that she can do more comic work like she had in her role on One On One.
"Believe it or not, when I came out here, I was like – comedy or bust," she says, smiling. "That's all I wanted. That's really my love, comedy. I have sort of fallen into this drama thing – that's what I've done mostly – but comedy is my favorite, favorite thing to do. A lot of people have dreams of being film stars. I really want to get onto a sitcom and be there for ten years. You get that family unit. You get to have that normal life, as well as being a part of the industry and doing what you love. So that's my dream. Comedy's my dream. Drama just won't let me go."
Yet, it is all just part of Davis' larger dream – to be able to move people with her work.
"I think that I would like to not only inspire people, but maybe give a little bit of truth to someone's story," Davis concludes. "Sometimes I'll go to see a movie and it'll touch me in a way that it stays with me for years. I don't know if that's ever happened to you, but you see a movie and for some reason it stays with you. I hope that I can do that. I can stay with people. I can make a difference. I can show someone something that makes them feel something. Even if it's just feeling okay with who they are or who somebody else is – it's just a medium where you can touch so many people and I hope that I can do that."
Email us Let us know what you think.
Features Return to the features page.
Photo Credits:
#1 © 2007. Courtesy of Dana Davis. All rights reserved.
#2 © 2007. Courtesy of NBC Television. All rights reserved.
#3 © 2007. Courtesy of NBC Television. All rights reserved.
#4 © 2007. Courtesy of NBC Television. All rights reserved.
#5 © 2007. Courtesy of NBC Television. All rights reserved.
#6 © 2007. Courtesy of NBC Television. All rights reserved.
#7 © 2007. Courtesy of NBC Television. All rights reserved.
#8 © 2007. Courtesy of NBC Television. All rights reserved.
Copyright ©2007 PopEntertainment.com. All rights reserved. Posted: November 10, 2007.