PopEntertainment.com > Feature Interviews - Actors > Feature Interviews A to E > John Francis Daley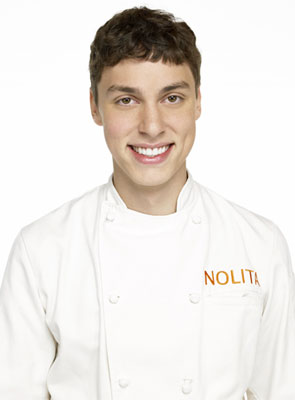 John Francis Daley
Cult Star Confidential
by Ronald Sklar
Copyright ©2005 PopEntertainment.com. All rights reserved. Posted: September 18, 2005.
We may be challenged when spelling his name correctly, but we never, ever forget John Francis Daley in anything in which he appears – be it the traumatized young Tommy in the national touring company of the musical Tommy, the impressionable sitcom son on the short-lived The Geena Davis Show, a troubled student on Boston Public, or most of all, the high-school freshman we've cheered on and looked out for during the instant-cult-classic Freaks and Geeks.
Daley, who has been working steadily since age nine in a business that does not welcome too many long stays -- is now a seasoned TV veteran at age twenty. He's currently tackling his first young adult role on the Fox network's buzzworthy Kitchen Confidential (based on the book by Anthony Bourdain).
"It feels good that I am able to make a living doing this," he says. "I know how lucky I am to be able to say that. The biggest challenge is making that transition from kid to adult on the screen. When you're a kid actor, you tend to be seen as a kid actor. It's very difficult for people to see you as anything else. Fortunately, I've been able to grow into my own skin as an adult. I'm still being seen as the youth in the show, but at the same time, I'm not being seen as 'someone's son.' In this, I'm playing '21 and over' because I'm hanging out with [the other characters] in bars. It's nice to feel like I've become an adult."
In the Darren-Star-produced series, Daley acts naturally, playing a young naïve who becomes a man through trial by kitchen fire. He says, "I play Jim, one of the chefs. Jim is very innocent. He hasn't yet been corrupted by what goes on. It basically shows his gradual descent to the dark side."
Taking yet another job in one of the most stressful and misunderstood businesses in America (show business), Daley plays a character that works in one of the most stressful and misunderstood businesses in the world (restaurants). He partially prepared for his role microwave style: "We learned how to look like we know how to cook. We ran through this extensive thirty-minute training at the commissary on the Fox lot. By the end of it I learned how to flip stuff in a pan, and that's basically all I have to do. Flip stuff in a pan. I don't know why they have culinary institutes in the first place!"
With competition for regular viewers more competitive than ever, expectations that this series is not a flash in the pan are high. He says, "The show is basically about Jack, this bad-boy chef [played by Bradley Cooper, recently one of the scene stealers as the a-hole fiancée in Wedding Crashers]. He was at the top of his game, and after abusing drugs and alcohol and hooking up with countless women, he hits the bottom. The show is about him getting a second chance working as a head chef at this brand-new restaurant that just opened -- and antics ensue."
Of the chemistry among the first-rate cast (including the veteran stage legend Frank Langella), Daley says, "We all feel like a family. We're so comfortable with each other. At first, it was very awkward, especially during the first week. I was thinking, how are we ever going to end up all being good friends? Just because we're all so different from each other, we're all totally different characters. I think that's what actually brings us together, because we all add something to the mix. We have a lot of fun together."
Fun seems to be the theme of Daley's life and career. Born in Wheeling, Illinois and raised in Nyack, New York, he earned a black belt in Kung Fu ("I don't get to use it too often. I try to. I pick fights with people all the time. No one wants to hit me back."). He caught the acting bug early after a successful stint as class clown. His father, the actor R.F. Daley, worked steadily on Broadway while young John would tend to his homework backstage. It was not too long before he himself was signed by an agent. Only two weeks later, he landed the gig of young Tommy in a national touring company of the Pete Townshend musical.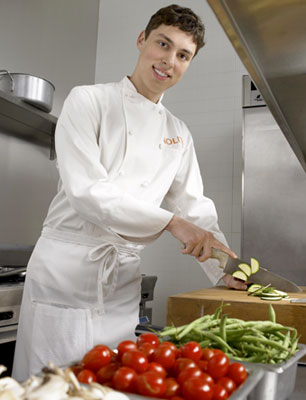 "It was just an incredible life change," Daley remembers. "One minute I was in suburban New York, minding my own business and trying to survive elementary school, and the next minute I'm going across the country every couple weeks or so in this giant production. It's an amazing show, and Pete Townshend was there, and I had no idea who he was – I had no idea who The Who was! My dad had just gotten out of a Broadway show that he was doing, and I needed a guardian. My mom was working in New York so she couldn't go, so my dad got a part in the show as well, so we worked together touring across the country. It was an amazing experience with memories that I'll never forget."
The irony continued, as he was coincidentally and unknowingly cast twice in two completely separate pilots for the same show as the same character (in two attempts to make an American version of the British series The Royale Family).
He also appeared in The Geena Davis Show, which rushed a quick visit on NBC for the 2000-01 season. Of that experience, Daley says, "Most people say it didn't run very long, but what's weird is that it ran longer than Freaks and Geeks. Because [Freaks and Geeks] was such a memorable show, people think of it as something that was on forever. Geena Davis ran for a full season, where Freaks and Geeks ran for 18 episodes."
Yet Freaks, which actually played on NBC a year before Davis, allowed him to let his freak flag fly, putting him on the proverbial map. He says, "I never felt that it would get such a following when I was doing it, but now I can see why. It really was such a unique and incredible show, especially for the time. I think it was ahead of its time in the sense that no one saw it. Most people may not have accepted the fact that a lot of people were outcasts. It's more comfortable to watch a show about pretty people with pretty-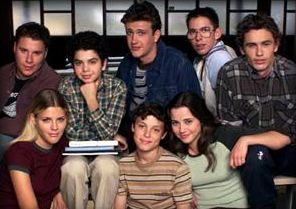 person problems as opposed to people who aren't so pretty with real problems. And I think that was one of the things that lead to its demise. If it was like a sitcom that wasn't so good that lasted a long time and I had a catchphrase on it, I can see why I wouldn't want to be remembered for it. But when it comes to a show with such quality as Freaks, I can only be thankful for the recognition that I get for it."
Of course, sacrifices always have to be made in the name of fame, but the foregoing of high school in order to star in a TV series is a debatable forfeit. He says, "I found [being tutored] more difficult during high school but not during elementary school… because it's elementary! I had a tutor for most of my time in high school. When I was a freshman, I got Freaks and Geeks. I basically went from that to my next job to my next job. I never felt like I was missing out on high school, because I realized what an incredible experience I was having. Everyone can say that they went to high school, but not everyone can say that during high school they were doing a television show about high school."
Other victories, both large and small, accompanied him along the way, including being voted one of the Top Ten Stars of Tomorrow by Daily Variety, and singing background on the Tony Bennett album, The Playground.
However, he says, "If you get the album – and I don't know why you would! – you can see my name in the credits on the back of the album cover – misspelled.". As well, his name is misspelled in the credits of the upcoming flick Waiting (starring Ryan Reynolds).
Infuriating? Not really. Just funny, really. We forgive these errors only because we know John's face and name so well by now, even as watch him leave childhood behind and his familiar face enters manhood. We look forward to seeing where his career takes him -- and we'll all be there to make sure his name is spelled right.
Email us Let us know what you think.
Features Return to the features page

Photo Credits:
#1 © 2005 Courtesy of Fox Television

.

All rights reserved.
#2 © 2005 Courtesy of Fox Television

.

All rights reserved.
#3 © 2005 Courtesy of Fox Television

.

All rights reserved.
#4 © 1999 Courtesy of NBC Television

.

All rights reserved.
Copyright ©2005 PopEntertainment.com. All rights reserved. Posted: September 18, 2005.