Peter Criss Ė legendary drummer and founding member of KISS Ė recently revealed heíd undergone a battle with breast cancer. A disease wrongly perceived as only affecting women, Criss is part of the 1% of males diagnosed with the malady each year. Now pronounced cancer free, Criss, in the middle of finishing off a new solo album, spoke with Pop Entertainment correspondent, Ken Sharp.
How are you doing today?
Iím working today and that to me is a gift because it makes me go down to my recording studio and get this rock and roll album going so I can get this out in the summer. I did all the major tracks last year and then I had Richie Scarlet come over a few months ago and put down bass on ten songs. The record is very heavy, not metal. But itís heavier than what I usually do and Iím very excited about it.
You were diagnosed with breast cancer in February 2008.
Yeah, itís been tough. I said on the news that I had breast cancer and didnít tell a soul beside my family and that was not easy. I once had a run-in with the tabloids in the Ď80s where they were saying I was sleeping in toilets and I had to sue them. (Ed. Note: This person was revealed to be an imposter.) I told my wife Gigi, ďLook what they did to (Patrick) Swayze and Farrah Fawcett.Ē We never mentioned anything about this until I got my big checkup and I was clear. This month is Breast Cancer awareness and I felt now was the time to say something.
Like many others, I never realized than men could get breast cancer.
Yeah, me neither. I didnít know that either but Iíve been educating myself more and more about it. But getting back to your first question, Iím a physical guy. Iíve been half naked onstage and been in spandex all my life. I really know my body well. Iím still in phenomenal shape and go to the gym at least four days a week and Iím drumming pretty much every day in my home studio. One day I get back from the gym and I laid down in bed watching the news and felt my left nipple and it was hard as a rock. I felt a lump in it and it hurt a lot and I thought, ďWhat is this?Ē I thought I may have had a cyst and could have hurt myself lifting weights. Breast cancer was the furthest thought from my mind. Iím really lucky I have my wife, Gigi. I told her about it and she was going to the gynecologist so she said, ďCome with me.Ē When we got there her doctor checked me out and she said, ďYou know Peter, if my husband had this I would only send him to one place and thatís it.Ē I started getting a little nervous at this point. She said, ďIím gonna send you over to Dr. Alex Swistel who is the head of New York-Presbyterian, the greatest hospital on the planet. This guy was my angel come true. I go to see him and in the visiting room are all women and theyíre all bald and itís really depressing. I was the only guy there and I was really scared. I thought: God, what did I do? I donít get high. I go to church. Iíve got a wonderful big house. Iíve got money. Iíve got a beautiful wife and a granddaughter whoís now two years-old. Please donít lay this on me. Dr. Swistel checks me out and sends me to this place in Jersey to do a biopsy. I had the biopsy and the report came back that I was cool, all they had to do was go in there and remove it. I was happy to hear that. I knew all along it was a cyst. Dr. Swistel does the operation and everythingís great and I go home that same night. Less than a week later he calls and goes, ďAre you sitting or standing?Ē Iíll tell you, if someone tells you that your bells go off immediately: Oh my God, something wrong! He told me, ďLook Peter, you have cancer. But donít pass out on me because you caught it immediately so you wonít need chemo or to lose that great black Italian hair.Ē He said he had to operate on me again to literally remove the nipple and go into my breast and take the lymph nodes out under my arms. Now Iím going in again and now I know I have cancer. My blood pressure must have been about a million. I was so scared going in for this. I went in for the operation and went home that same night. He called me a few days later and said, ďYou are cool. Thereís no cancer, Iíve got everything.Ē
My slogan is early detection. You need to go immediately and have yourself checked out, donít sit around and act like itís gonna go away in two weeks.Ē Bullshit! Men need to get regular check-ups. Itís only 1% of men who are diagnosed with breast cancer but that can always go up so you need to stay on it.
All this time I did a lot of praying. After recently getting a clean bill of health, I wanted to step forward and tell the world about this. First we put the news out on my web site (www.petercriss.net) and then it became Pandoraís Box. The next thing I became flooded to be a spokesperson. Iím doing as much as I can do for Breast Cancer Awareness Month. I donít want to be a crusader. I donít want to be a holy roller. I donít need a pat on the bat or more accolades. I just want to tell my story and hoping this will help educate and raise awareness for guys about Breast Cancer as thereís no literature in a doctorís office on this problem, itís all for women. I would love to see that change. I would like to see guys, no matter who they are, to get off the couch if he feels something in his nipple to under his arm or near his privates and get checked out.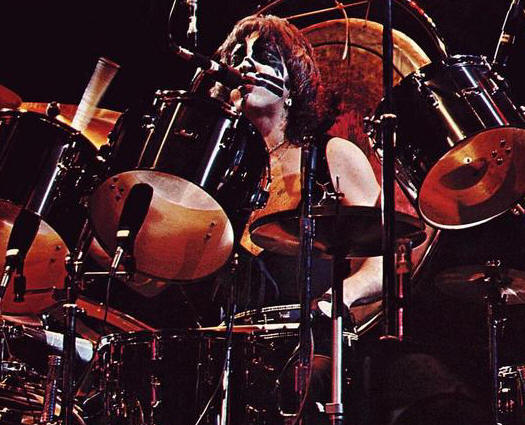 Cancerís not discriminatory.
Right. I mean, I was a superhero with KISS; theyíve got comic books about me. It can happen to anybody. Men can be stupid and ignorant not to do anything about it. You have to go see someone right away. If I didnít go see someone right away you wouldnít be talking to me now.
Going through this battle, how has it affected the way you live your life now?
Going through it was very depressing. I was seeing an analyst, not a psychiatrist because they give you drugs and I donít want drugs. I want to talk about it. That went on for awhile and that really helped me. Now I look at things like this: the past is gone and the future we donít know. I concentrate on the present and look at every day that I wake up as spare time for me to have a fucking field day. I told you earlier that I was working on a new CD. For a while I didnít have a lot of the words done but now Iíve been down in the studio working on lyrics and Iím getting very close to putting down vocals.
Youíve become even more inspired.
Yeah. Iím at the gym every day. I always was a physical guy. I eat very well. I eat a lot of fruit, salads, chicken and fish, not a lot of meat. IĎve taken vitamins for the last 40 years. You need to take of yourself. My attitude has really changed. How can I not be so grateful? Iíve also got a book in the works too.
What message would you like to tell people?
Cancer is nothing to fool around with, itíll kill you. I have to impress upon people once again that early detection is so important. If you feel a lump somewhere immediately go to a doctor and get checked. If I didnít do it myself I wouldnít be here today.
For more info:
http://www.nationalbreastcancer.org/
Features Return to the features page