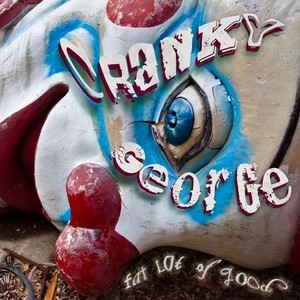 Cranky George Contest!
Cranky George, the folk-influenced indie rock band featuring actor Dermot Mulroney and co-founder of The Pogues, James Fearnley, will be releasing their debut full-length album, Fat Lot of Good, on October 14. The album will be released in digital and CD formats along with a limited edition of 450 double gatefold albums of heavyweight vinyl, each signed and numbered by the band. The music on the record, while diverse, features common threads such as Cranky George's signature folk-inspired instrumentation – including accordion, violin, mandolin, acoustic guitars and ukuleles.

Recorded over a span of five years at Brad's Seagrass Studio, Fat Lot of Good tips music from the bucket that dredges the confluence of the Danube, the Shannon and the Missouri. The album embraces fourteen songs, individually divergent, but which together ply a course from haven, round horn and back to harbor, by means of lullaby, torch song, sea shanty and murder ballad – an album which, with compassion, irony, humor and sometimes horror, tells stories of desire, love, loss, cruelty, ruination and pity.

One highlight of the album is the first single, "Nighttime" which draws from a variety of influences including legendary Canadian indie rockers Arcade Fire and is available now. Cranky George describes "Nighttime" as "Big in the way that Coldplay is big," and says that the song is "A siren call for lovers – for anyone who's ever slept beside someone they loved and wished the night would never end." Featuring Kieran Mulroney on vocals, the song is a mid-tempo song from the heart and draws equally from groups as diverse as Elbow, The Decemberists, Coldplay, and Band of Horses while incorporating dripping guitars and horns at the climax. The accompanying music video features the five members of Cranky George as they perform the song and interweaves the story of a woman in distress, pining and longing for a lost love.

As a perfect foil to the effervescence of the musicianship in Cranky George, the band's blend of vocal harmonies, its cross-graining of voices – James's chiselly drone, the honeyed timbre of Sebastian's voice, Brad's incisive falsetto, the Mulroney brothers' baritones – Kieran's urgent, Dermot's lusty – is as sturdy as marine plywood.


To celebrate the release of Fat Lot of Good, PopEntertainment.com, Cranky George and Miles High Productions are happy to announce our Cranky George contest! Winners will get a prize pack of a copy of the CD, an autographed photo of the band and a set of Cranky George drink coasters! Also like us on Facebook and Twitter to get updates about upcoming giveaways!
Name

:

Street address

:

Address (cont.)

:

City

:

State/Province

:

Zip/Postal code

:

Country

:

Home Phone

:

E-mail

: