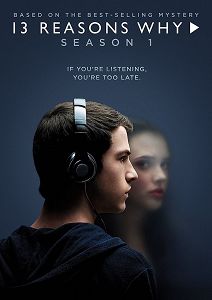 THIRTEEN REASONS WHY CONTEST!
"Engrossing and provocative" (April Wolfe, L.A. Weekly) and "sensitive, surprising...and, most important, unblinking" (Matthew Gilbert, Boston Globe), the groundbreaking adaptation "13 REASONS WHY" Season One arrives on DVD April 3, 2018 from Paramount Home Media Distribution.
Clay Jensen (Dylan Minnette) returns home from high school to discover a box of cassette tapes, recorded by Hannah Baker (Katherine Langford), his classmate and secret crush, who died by suicide only two weeks before. Hannah's tapes reveal the 13 reasons that led to her untimely death, and the people she felt were responsible. This begins an emotional journey of suspense and heartbreak to uncover the mystery behind Hannah's tragic end. Based on the best-selling mystery by author Jay Asher and executive produced by OscarŽ winner Tom McCarthy (Best Original Screenplay, Spotlight, 2015), Pulitzer PrizeŽ winner Brian Yorkey, Selena Gomez, Kristel Laiblin, Mandy Teefey, and Anonymous Content's Steven Golin, Joy Gorman Wettels and Michael Sugar, this powerful drama also features Kate Walsh, Christian Navarro, Alisha Boe and Brandon Flynn.
Named one of the top 15 pop culture moments that defined 2017 by USA Today, "13 REASONS WHY" inspired more than 11 million tweets, becoming one of the top 10 most-tweeted about television shows and Google's most-searched show of the year. Season Two will debut on Netflix in 2018.
The "13 REASONS WHY" Season One 4-DVD set includes all 13 episodes, plus the "Beyond the Reasons" special, and new-to-DVD character featurettes, actor interviews, and more.