PopEntertainment.com > Feature Interviews - Music > Feature Interviews A to E > The Click Five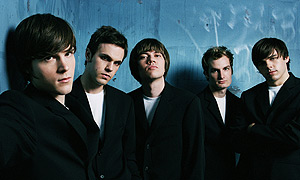 the click five
just the band we're looking for...
by jay s. jacobs
Copyright ©2005 PopEntertainment.com. All rights reserved. Posted: September 15, 2005.
Don't call them a boy band. The Click Five may be made up of five handsome guys (vocalist Eric Dill, lead guitarist Joe Guese, keyboardist/songwriter Ben Romans, bassist Ethan Mentzer and drummer Joey Zehr) in their early-twenties with snappy matching suits and hip Beatles-by-way-of-the-Strokes haircuts, but don't think for a second that these guys can't rock. Their debut album is a good old-fashioned power-pop platter served up by guys who obviously have Cheap Trick, Tom Petty, the Knack and the Cars in their CD collections, not the Backstreet Boys and N'Sync. Their catchy debut single "Just the Girl," written by Fountains of Wayne member Adam Schlesinger, is the best blast of pure pop rock to rule the airwaves since... well, "Stacy's Mom" by FOW. With the band's wondrous pop confection Greetings from Imrie House riding high on the charts, guitarist Joe Guese sat down with us to talk about the crazy world at the top of the pops.
How did you originally get into music?
My mom bought me Sgt. Pepper's Lonely Hearts Club Band when I was about eleven. That kick started everything for me.
You guys went to the Berklee School of music. How did the band get together?
Yeah. Essentially four of us attended Berklee College of Music. We were all just friends and hung out in Boston. We all lived in the same house. Even Eric was a childhood friend of Joey's from Indianapolis. We brought Eric out, he was kind of the missing link. We all got together in Boston and started rocking.
Is Imrie House a building there?
No, it's actually the house that we live in, or used to live in, in Boston. It's an old house, big three-story house. It was kind of a rock and roll fraternity. (laughs) We all wrote basically the entire album there.
Even before the album was released, you got a lot of exposure touring with people like Ashlee Simpson, Backstreet Boys and Jesse McCartney. How did you get involved with those tours?
It was Ashlee which was probably the biggest deal for us. We played a show with her last summer in Boston, at the Hatch Shell, which is an outdoor amphitheater on the river. We were just one of her opening acts. It was our first really, really big gig. The first time we played in front of more than like 500 people. We opened up the show and I guess she liked us. When they were looking for opening acts last January, I guess our name came up. We got the gig.
You sold about 10,000 copies of your self-produced EP. Now, not that long after "Just the Girl" is a top ten hit. How surreal is that?
It's just crazy. It doesn't seem that long ago you were playing in your garage. With us it's happened so quickly. You just feel so lucky to be where you're at. It's kind of unbelievable. It's definitely weird every time you hear your song on the radio.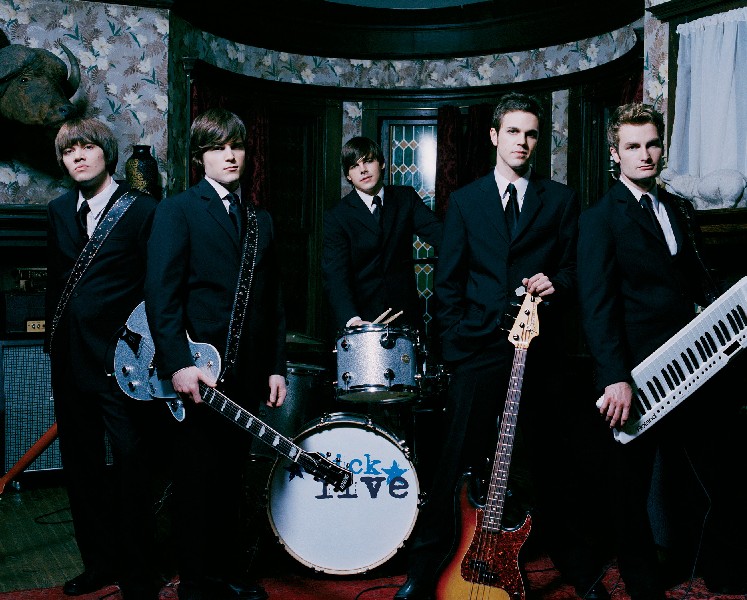 "Just the Girl" and "I'll Take My Chances" were both co-written by Adam Schlesinger of Fountains of Wayne. How did he get involved with the project?
Our producer is Mike Denneen. He mixed Utopia Parkway and produced Welcome Interstate Managers for Fountains of Wayne. It was really cool for us, because… at least me personally, I've been a Fountains of Wayne fan for years now. To get handed basically an unreleased Fountains of Wayne song, it's something really cool. His writing is something I've always liked. I've always thought they were such a great band.
Along those lines "Angel to You (Devil to Me)" was co-written by Paul Stanley with Ben. Are you a big KISS fan? How did he get on board?
Our manager tour-managed KISS in the 80s, so they're still friends. Two Thanksgivings ago we had dinner with Paul Stanley in Boston. We met him there and Ben, our keyboard player… Ben does most of our writing… I guess about a year ago we were finishing up the album and finishing up the songs and someone came up with the idea of him writing a song with Paul Stanley. He went out to Los Angeles and wrote the song with him. I think it turned out pretty good.
It's great that you got those few songs written by others, but the band members, particularly Ben are also very good writers. I love "Catch Your Wave," "Good Day" and "Pop Princess" and others. Are you at all afraid the band's songwriting may be overshadowed by the guests?
Not really. I've known Ben for years now and I've been a huge fan of his songwriting. We're confident in our own writing. Having different songs from Adam and Paul was just something you couldn't pass up.
I also love the fact that you guys have Elliot Easton (lead guitarist of the Cars) playing guitar on some tracks.
It's just the Boston connection. It was definitely, for me personally as a guitar player it was one of the coolest things that could ever have been, you know? He's the kind of guitar player I look up to. The kind of guy plays the song, doesn't try to overplay. Kind of the same (type) as George Harrison and Mike Campbell (of Tom Petty & the Heartbreakers). So it was really cool to have him in there, and really humbling. Every so often you get stuck on "I'm the lead guitar player" and then Elliot comes in and it's just like, "Oh, man!"
I noticed that you often use happy, upbeat music together with some rather pointed lyrics, for example in "Good Day" or "Just the Girl." How do you think that contrast helps a song?
Boy. (laughs) Probably would be better to ask someone who writes more of the songs. I don't know if that ever really entered our minds so much. We definitely wanted to make a positive album. We just wanted to make an upbeat, good sounding record.
I love the Thompson Twins, but I have to admit "Lies" is a pretty surprising cover choice. Why did you decide on that tune?
It's kind of a last minute addition to the album. It was actually for a movie soundtrack (for the film Sky High). We ended up recording it – this is after the album was done – and the record label thought it came out so cool that they wanted to put it on the record. It was kind of by accident.
Radio playlists are so regimented these days. You used to be able to hear rock, pop, country and soul on the same station and that just doesn't happen anymore. Do you think that can make it tougher for a band to find an audience?
I think radio today, speaking about top 40 radio, to me seems to be in a much better place than it was say five or six years ago, for bands, at least. If you turned on Z100 the chances of hearing a guitar or real drums or real singing were probably slim to none. In some ways, top 40 is a lot more like what you were describing. You'll hear Green Day next to Rihanna next to…
Tim McGraw or something…
… yeah. It's much more eclectic than it was.
On those same lines, back then a lot of rock bands seemed to think it's a sell-out to be catchy. It seemed all the rock bands were trying to sound like KoRn or Limp Bizkit. Do you think pop songcraft is making a comeback?
I think everything goes in cycles. Growing up… I don't know if we're common for kids my age… (but) I know we were always attracted to that kind of melodic, driven rock. Like I said, the first band I really got into was the Beatles.
Who are some of the other artists who inspired you to get into music?
Tom Petty and the Heartbreakers, who I just saw last week at Red Rocks (in Denver). Lots of power pop stuff. From Badfinger to the Raspberries to newer stuff like Matthew Sweet, Fountains of Wayne, Oasis… stuff like that.
Whose idea was it to get Christopher Knight (Peter Brady from the TV series The Brady Bunch) for the "Just the Girl" video?
We just kind of wanted to have someone in the video to kind of push it over the top. It came through the label. It worked out pretty cool.
What was the first time you heard your music somewhere outside of the recording process, like on the radio or in a club? What was that like?
I was with my girlfriend, driving around Boston. I knew it was going to be on the radio, so I got into my car and drove around and waited to hear it. It was a cool moment, just kind of weird, you know? You're like, "Oh, there's me playing guitar. I remember recording that a couple of weeks ago."
Are there any misconceptions you'd like to clear up?
Yeah, that we were put together. I guess people seem to think that there was some manufactured sort of deal. We all went to school together. We've all been friends for years.
In the end, how would you like people to see your music?
Gosh. (laughs) I don't know, it's so early in the game. I just feel so lucky to be a part of it, being able to play guitar for a living…
Email us Let us know what you think.
Features Return to the features page

Photo Credits:
#1 © 2005 Courtesy of Lava/Atlantic Records

.

All rights reserved.
#2 © 2005 Courtesy of Lava/Atlantic Records

.

All rights reserved.
#3 © 2005 Courtesy of Lava/Atlantic Records

.

All rights reserved.
Copyright ©2005 PopEntertainment.com. All rights reserved. Posted: September 15, 2005.