You think you've got Christopher McDonald all worked out, don't you? Smart, handsome, charming, powerful guy with a massive dark side.
After all, McDonald has been visiting your cineplexes and your TV screens for over two decades now. He's played a whole slew of memorably sketchy supporting characters, like Geena Davis' abusive husband in Thelma & Louise, a pompous golf pro in Happy Gilmore, a slimy self-help guru in Requiem for a Dream and a corrupt politician in Boardwalk Empire.
However, if you think that's what Christopher McDonald is all about, you're only seeing part of the picture.
"I read all those things on IMDb," McDonald good-naturedly told me recently while resting up for his nightly performance in the hit Broadway drama Lucky Guy with Tom Hanks. "People think I'm a jerk. But I'm not. I'm actually a decent guy. I'm a family man."
It's acting people. And Christopher McDonald is damned good at his craft. So good that sometimes people don't quite buy that a guy who can play such unlikable people on screen could actually be an old softie.
"I don't put a lot of stock in what people say." McDonald continued. "Everyone has their opinions. But you read them, you hear about them. You go well, that's too bad that's the peoples' impression. People's impression of Tom Hanks is he's the nicest guy in the world and that happens to be true. He is the nicest guy in the world. But he's got an edge. Now people are finding out when I come out of the stage door every night that I'm a great guy. I'll sign autographs. I'll take pictures. Everybody's got a phone now with a camera in it. It takes a lot to do that and I don't mind it at all. A lot of the comments that I read [show] that people think I must be a real jerk and it's just the opposite. I just play a lot of those characters because every movie needs one."
Hmmm... playing a role. Who knew? And what do you know, McDonald's latest high-profile role is one of the nicer ones.
McDonald is currently playing legendary Manhattan litigator Eddie Hayes in Lucky Guy, the late Nora Ephron's final play – a valentine to final days of tabloid journalism. The play is one of the biggest hits of the theatrical season and the favorite to win the Tony for Best Play of the Year. A true ensemble piece, McDonald is sharing the stage with not only movie star Hanks, but also such talented actors as Courtney B. Vance, Peter Scolari, Maura Tierney and Peter Gerety.
"I'm having a complete blast doing this thing," McDonald said. "I'm a grateful fellow, I'll tell you. It's something I've been wanting to do for a long time."
One disappointment in the situation is that McDonald was not able to work with the legendary playwright – also well known as a screenwriter, film director and author. Ephron passed away of a rare blood disorder last June.
"Unfortunately, I only knew her work and was a huge fan," McDonald said.
Though Ephron was involved in the early read-throughs of the potential play, at the time his role was played by Bobby Cannavale. ("That's interesting, a different choice," McDonald chuckled. "He's not that Irish.") However it was only after the writer passed on that her long-time friend and star Tom Hanks committed to the theatrical run – the movie star's first Broadway role – and the play was fast-tracked to the Great White Way. Once the play gained serious momentum, about January of this year, McDonald was contacted to play Hayes, the best friend and lawyer of Hanks' character.
"They invited me to come play," McDonald recalled. "As soon as I heard Nora Ephron, I ripped through the script. Then I hear Tom Hanks. I've been wanting to work with him forever. I'm a huge fan of his as well. I didn't really know him, but we'd occasionally see each other at big functions in Hollywood and say hi. I know Rita [Wilson, Hanks' wife]. So that was good, to actually have an experience with him. The other thing was that working on Broadway was something I've been wanting to do for a very long time. To work with George C. Wolfe, who is a brilliant director. All three things fell in line."
One other concern for McDonald was, as a family man, he would have to spend months away from the brood.
"The only thing that that fell apart was the fact that I had just lined up my family life so that I had all my kids around me," McDonald smiled. "My extended adolescence of two kids in college just nine miles away. Then I got this. The biggest challenge is that I'm missing them. I see them. We Skype each other. They attended the opening. We had fun. But at the same time, I don't see them every night, so that's one of the hard things."
Still, as much as he misses his family, he loves the opportunity that has been offered him. After years of mostly working in film and television, McDonald cherished the opportunity to get back on stage. Added to that fact was that Lucky Guy was such a high-profile project that it skipped right over many of the hiccups that are expected when a play is targeting Broadway.
"Once you have an actor the caliber of Tom Hanks, then things fall in line pretty quickly," McDonald explained. "He had been [exploring] this thing for three or four years with Nora. [After her death], he finally said yes in honor to her. He said, 'I'm going to do this for my friend and collaborator.' That was lined up pretty quick. Everybody wanted to jump onboard.
"The big plus of it is, for the other actors, that we have created something quite special with this show," McDonald continued. "It is a real ensemble piece. They've got beautiful actors in this thing. Great veterans of the stage. They are all fantastic in it. People leap to their feet at the end of it. It's really a rare and wonderful experience. We got the good news yesterday, we're extending in two weeks, so the people who haven't been able to get tickets will be able to jump on it right now. See one of the greatest shows. They always get more interesting at the end, for some reason. People say, 'We're not going to do this again, so I've got to do it now!'"
Lucky Guy is based on the true story of New York tabloid journalist Mike McAlary.
"These are the last great days, if you will, of the tabloid," McDonald said. "It's like a love letter to that era, when New York City was really a crap hole. There was graffiti everywhere. There was crime in the streets. There was crack cocaine in the veins of all the crazy people. The corruption in the police department made it rife for tabloid reporting, much more than The New York Times. It's a celebration of those papers. The Post, The Daily News and Newsday. It all has changed, because we get our news immediately now. Even with television. There's a line in the play: we knew the story had to be true, because it was on television. That's when you knew that the era had really come to an end. Because television and instant access to news now is even more prevalent. With the internet we hear about it in two minutes. It's a completely different world out there."
However, Lucky Guy takes us back to the days before the big Disney-ification of the city.
"This is the story of Mike McAlary, the Michael Jordan of the tabloid world," McDonald explained. "He just basically outworked everybody. He was fearless. He burnt the candle at both ends. The most important thing in his life was to be a columnist in one of these papers. Through the help of his attorney and friend Eddie Hayes, who I play, he became the highest paid rock star of that world: even surpassing Jimmy Breslin, who was his idol."
Returning to the stage was a hard and satisfying journey for McDonald. He's been wanting to get back out on the boards for a long time.
"I'm in the city of my birth," McDonald said. "I am living in my cool apartment here. I had the inclination that I'd be working on Broadway, but now I'm actually living here for six or seven months. I hope that when my kids graduate that I will get to relocate here permanently. I just love it."
It's just that, for as much as he loves television and film, theater has more of a family and collaborative feel. It is a tight-knit group of players, as opposed to starring in a movie with George Clooney, but never working with him, just seeing him at the wrap party.
"We all just hug each other and do the ritual backstage before we go out and tell this great story," McDonald said. "We pump each other up. You see them every day, eight times a week. It's really much more bonding. Then the magic happens onstage. You have a different audience every night that's a living, breathing organism. You have different reactions all the time. It's unexpected. It keeps you on your toes. When props break or fall or crack or something, you have to keep going. If somebody drops a line, you have to be able to pick it up and run with it. It's just a very exciting venue.
"It's also it's probably where the actor has the most control. Once the curtain comes up, it's the actors' show. There are no editors. There's no AD. There's no director saying 'Cut, let's do it again.' None of that. We are telling the story. Once the director locks it in, it's the actors. They will give you notes here and there, but for the most part, we're telling that story in the way we developed it. It is a train that is barreling in the first act and completely different in the second act. When you see it, you'll understand. It's the extraordinary stories. People really respond well to it. We're very grateful to be part of it."
This is actually McDonald's second Broadway play, he had previously done a stint as lawyer Billy Flynn in Chicago. However, that show was more bittersweet due to the circumstances. McDonald's younger brother, who still lived in the New York area, had cancer. McDonald took the role to be closer and to be with him. It was a last minute thing – there were literally only nine days between McDonald taking the part and his first performance – and the work made a difficult time a little easier to bear.
"It turned out really well," McDonald said. "I had a lot of fun. When I look at it in hindsight... and I did it a couple more [stretches of the show later]... the pain I was going through with my little brother, it was an outlet for me to have the creativity I needed. At the same time it was a very painful time in my life. I did get to appreciate it totally."
And as much as he loves being back on stage, he also totally appreciates the two decades of film and television work that has kept him busy.
"California has been very good to me, don't get me wrong," he said. "I've done a lot of great television. They are writing things for television that weren't there when I started. That's why I was doing a lot of film [early in my career]. You follow the great characters. A lot of lawyers, lately. It has been very, very interesting in my period, my second act here. I've been doing some really interesting stuff with David E. Kelley, playing with Kathy Bates [in Harry's Law], who's coming to the show tonight, by the way. That was really great fun. Before that I was in Paul Haggis' series Family Law, with Kathleen Quinlan and Dixie Carter. That was a blast."
Pretty long ride for a guy who never even saw himself as an actor when he was growing up. He thought of himself as just a guy who was playing the trumpet. While McDonald's father had done some acting, he was also a teacher, a man of letters, and holder of a doctorate. McDonald was the middle child in an Irish-Catholic family of seven kids, so when his father wanted him to become a doctor, McDonald decided that would be a good way to get his father's attention and his love. He put two years of college into the medical field.
He first got involved with the theater completely to get the college credits. As so often happens, he was hooked. He knew he wanted to do this for a living, but he also knew it was a hard, hard way to make a living. He changed his major to English, because the school did not offer a theater major. He graduated with honors. Now McDonald was ready to face the real world of professional acting. It was risky, but he was ready to take the chance. The start was a little bumpy.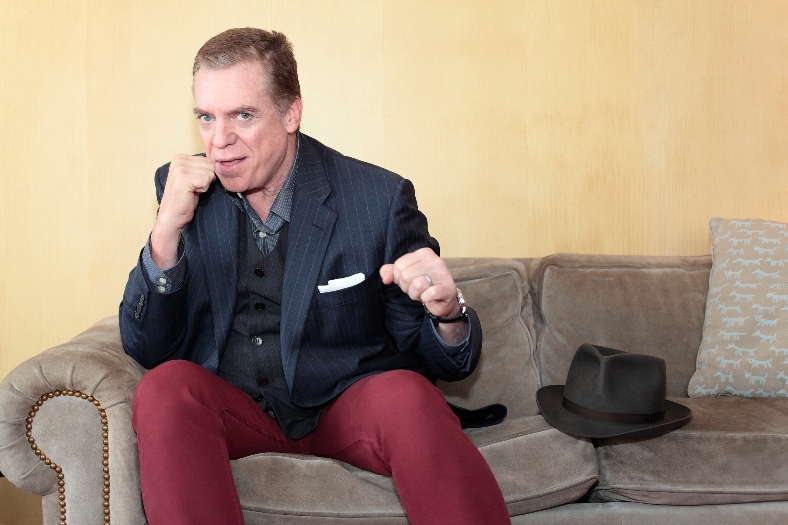 "Right after college, I got a play out of Boston," McDonald recalled. "That play took me to Los Angeles and then never happened. Here I was with all my worldly possessions and 200 bucks in my pocket. [I was] thinking I better bloom where I'm planted here. Even though I love New York and always wanted to come back and study here, my base became the west coast. Thankfully, I didn't take any other [type of] job. I said I want to be an actor. I want to act. If I don't act, I don't eat. It was kind of a high mark I was making for myself and it seemed to work."
It took a while for Hollywood to pigeon-hole McDonald as the heavy, though. Early roles included playing one of the singing and dancing T-Birds in Grease 2 and the dapper love interest who dies young and is reincarnated as Robert Downey, Jr. in the hit romantic comedy Chances Are. In fact that character, despite the fact that he was killed off early, felt more natural to McDonald than the bad guys.
"The one that was closest to me was probably Chances Are," McDonald said. "That's who I am. I'm a pretty straight ahead guy... I die by page 27, but I come back as Robert Downey, Jr. In those 27 pages in the beginning, people were like: 'Who is that guy?' Maybe there could be a romantic lead kind of thing there. But then again, that's a film that didn't go through the roof like Thelma and Louise did."
It was that 1991 smash that truly gave McDonald his villainous gravitas. In the movie McDonald played Darryl, the controlling husband who drives Geena Davis to take to the road and an eventual life of crime.
"I am playing this obnoxious salesman of a husband who is philandering on his wife, obviously, and ultimately still loves her," McDonald recalled. "I had nothing to lose and I was shooting from the hip. Let's let both barrels go and see what happens here. Because I'd had many a frustrating year gone by looking at the material that was offered me."
Therefore, McDonald decided to take advantage of his inner bastard.
"Just typecast me," he said. "I don't care, I just love to work. I need to work. If you want to typecast me, I'll do it. But I'm going to find a spin for myself personally so that I don't repeat myself. I've found that every movie needs this character or you don't have the conflict. Without conflict you have no dramatic arc in the story. So I started embracing it. And I started doing a lot of them."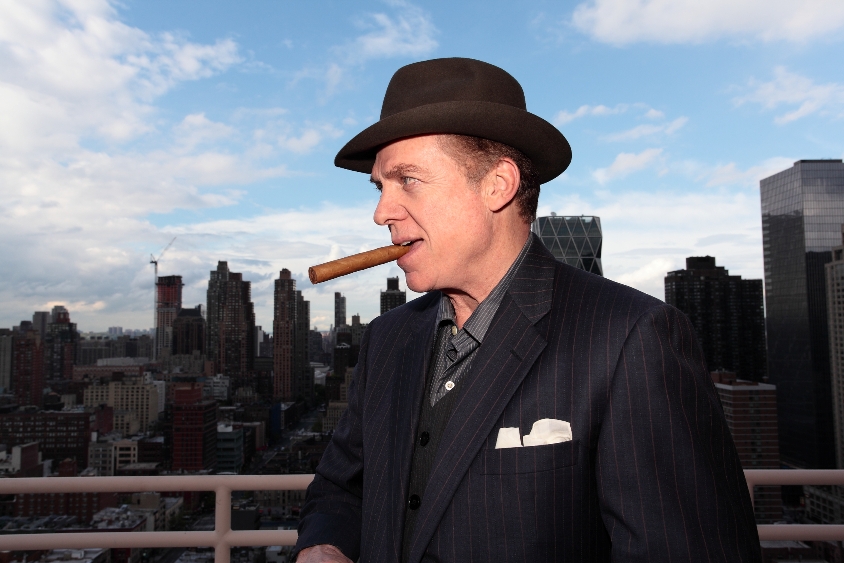 Before long, McDonald was so well known for playing bad guys that it almost doubled back on itself.
He chuckled, "To the point that they said he's the go-to guy, at least in the top three of that list to get to do that. Then they started casting me against type, saying we will red herring you. You'll turn out to be the good guy. I circled back. That was really fun. I didn't mind that part.
"I love to play as far away from type as possible. I could play businessmen all day long, but I actually feel like I am a businessman in life – show business. But there is always a dark side to these characters you play."
But it has always been about variety for McDonald. Drama, action, comedy, musical... bring them on. McDonald started getting noticed for more and more roles, including some that have become rather iconic. For example, McDonald made quite a splash when he played the stuck-up veteran golfer Shooter McGavin in the goofy Adam Sandler comedy Happy Gilmore.
"Every day, especially in New York, people will yell out, 'Shooter!'," Mc Donald said, doing a spot-on Adam Sandler imitation. "That movie hit a funny bone in American and it's almost generational now. It came out over fifteen years ago. People watch it all the time. I meet sailors who say, 'We watch that thing probably three times a week on the boats.' It just amazes me how that has resonated in the American vernacular of films that people love. It's one of the great golf films and sport films, but at the same time it's such a goofy movie when you think about it.
"People said I just embodied that guy," McDonald continued. "Not in my house! You're not going to beat me! Everybody has a little bit of that in them. That's why it resonated, I believe. And because it was just the right timing. When it first came out it made 40 or 50 million dollars, but ancillary it has gone through the roof. I get fan mail all over the world from this movie, which is kind of shocking. I can't really explain it. I don't care to explain it. I just welcome it and I'm so glad I did it. I nearly didn't do it. I'm glad I did."
On the opposite end of the scale, McDonald played a very flawed self-help guy in Darren Aronofsky's dark drug classic Requiem for a Dream. It was quite an experience to the actor, who had to make sure to remember it was just a job not to get enveloped by the darkness of the story.
"If you think about the darkness of that movie, then you'll get sucked into that vortex," McDonald explained. "You want to stay as far away [as you can]. You play your part and then you don't go to that dark. It's the same thing when you're playing a bad guy. You don't think he's a bad guy. You find things that make him make the choices he makes. Makes them viable choices. Why you like the guy. You can't play a guy and then comment on him, or you'll get a very typical performance. People will go, 'Oh, my God. Bad guy 101.' I try to stay away with them. Hopefully I've been successful with it."
Still, McDonald realized that he was in the midst of a very special project.
"That particular movie, that director's vision was such that I was constantly amazed at his imagination."
He didn't realize quite how powerful it was, though, until he finally saw the completed movie at the Cannes Film Festival premiere. McDonald was actually one of the last cast members to see the finished project. It was the midnight screening at the festival. The cast was there, decked out in tuxedos, doing the red carpet. By the time they got into the theater, the place was packed with 3,000 people in the audience.
"The response to this movie was... as I talk about it, it makes my skin get goose bumps... it was truly such a loud ovation that felt like it was ten minutes, but it probably was two minutes," McDonald recalled. "But, wow! Just amazing. I looked over a couple of times in the movie at Darren Aronofsky and I go (whispered) 'I love you!' [Aronofsky] said, 'It only gets worse.'"
McDonald laughed. "He's a very interesting cat. I'm lucky to have worked with him."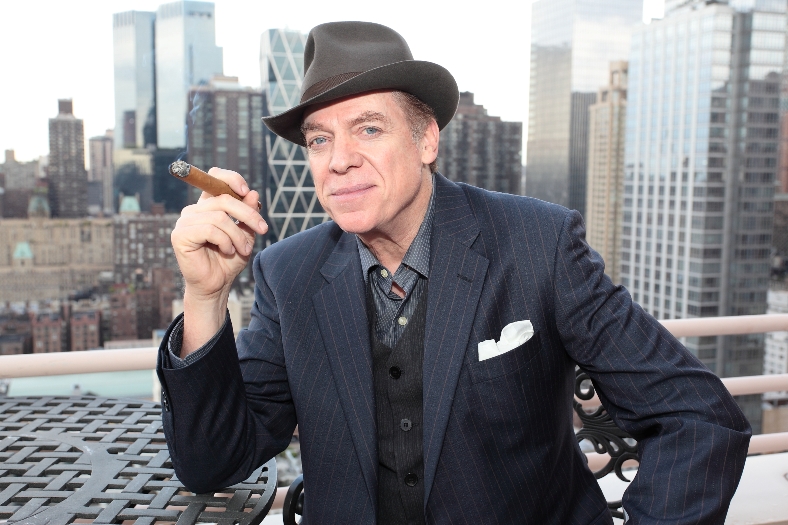 Another iconic role and director were waiting in the form of director Robert Redford and the movie Quiz Show, a dramatization of the 1950s scandal in which the most popular game show on television, Twenty One, turned out to be fixed. McDonald played Jack Barry, the real-life host of the show whose career continued to thrive in game shows for years after the dark incident, eventually spending many more years as the host of The Joker's Wild.
"I did a lot of research, even before I met Redford, at the television archives. I watched him play stuff I was watching when I was growing up: 'Joker! Joker! Joker!' The Joker's Wild. Then I found the real archival stuff of him playing Twenty One. I'm so glad I did all that research, because literally Redford just has this sixth sense. He said I didn't even have to read for him. I was in New York City, waiting for Bob in his offices. He finally comes in, late as always," McDonald chuckled. "He said, 'Chris, come with me.' I'd already taped my bit... I really, really wanted to do it. He basically saw that in my eyes. He recognized it immediately. I had that spark of Jack Barry. I was walking through the threshold of the doorway to his office [and he said], 'You're our Jack Barry.' That's the way he works, man."
The way that Chris McDonald works is just that: he works. He'll do any kind of acting. It was something he learned when he was young and studying at the Royal Academy of Dramatic Art in London. His fellow students had a much different viewpoint of acting than McDonald had found at home.
"I was amazed that the English actors who are now constantly picking up trophies during the Oscars, they were thought to be technicians," McDonald said. "They would work in any medium that wanted them. They would do stage. They'd do film. They'd do television. They'd do commercials. It didn't matter. They were working actors. That's how I studied and that's how I found it was okay.... They do it all in London and I just embraced that. One of the most fun and challenging things about my career is that I get to do it all. I love it. I embrace that. I look for diverse roles. It's really, really, really fun. It keeps me guessing and keeps me researching and just much more alive."
Still, there are even more roles that he has not yet explored. Working with Tom Hanks on Broadway has reminded him of this.
"I would love to try and take a shot of one of Tom's roles," McDonald admitted. "I'm here working with the guy and I'm like if any part that comes your way you won't do, let me have a shot at it. Because we're similar, we're colleagues and we have a similar sensibility and sense of humor. I was wondering how I would be in parts like that. He blew me away in so many different things. He's also a character. He'll play things that are vastly different. That's where the actor really soars, when you have something that is a challenge and scares you a little bit. How am I going to pull this character off? Man, how am I going to pull this Russian spy guy off? I want to get the language down so everything becomes second nature to me. Just be in the moment, hopefully. If I'm lucky, the little movie miracles. Because those are the moments that make a performance."
One of his diverse roles coming up is in an upcoming remake of the popular 1986 movie About Last Night..., which was itself loosely based on David Mamet's early play Sexual Perversity in Chicago.
"It's the African American version," McDonald explained. "I'm the token white guy in this thing. But it is funny. The stuff that I saw, I'll tell you the actors are just knocking it out of the park. They are going for the high sex, you can get a little bit more graphic with that nowadays. Kevin Hart is a very funny guy. Oh my God is he funny. And the girls are gorgeous. It's going to come out on Valentine's Day and I think it's going to be making a lot of noise. It's pretty true to the movie and I think they also had the play around, too. It's really nicely directed by Steve Pink. It's all good."
Another role that McDonald would like to try on for size is the role of movie director. In fact, McDonald has found the property he wants to make, a romantic comedy called Wildwood Inn. He's been trying to get it off the ground for a while now, but financing has been tricky.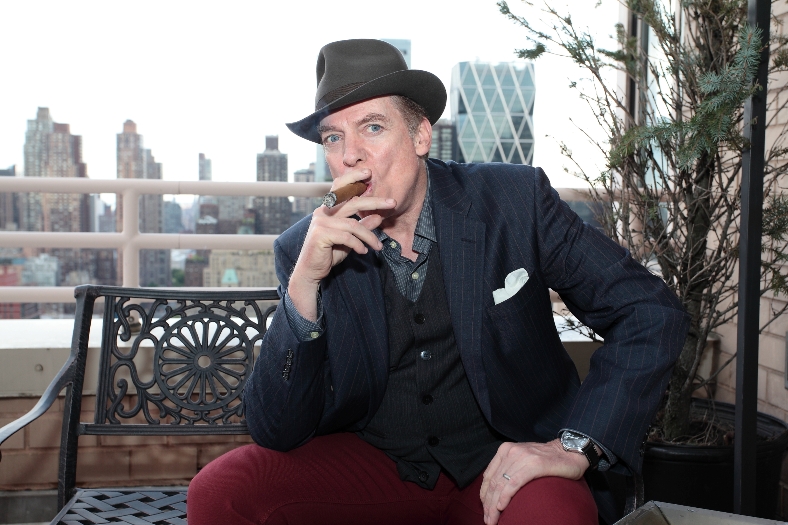 "Oh, I was close," McDonald said. "I was close. I had the money twice and it fell through. It's all about location. It's a love story that takes place over several years, like Same Time Next Year. It's all about finding your soul mate. I found my soul mate in life, so it speaks to me. This is a story I responded to. I found it at Sundance and have been trying to make it for two years now. I've got everything drawn up. I wouldn't need much more than four really great actors that had the time to do it. Pre-production is done. I've prepped it twice, ready to shoot, and then the money fell out. I might have to go to one of those sites [like] Kickstarter.... I've actually donated to Kickstarter when I believe in something. I'm just finding the window now. But sure enough as soon as you get close, the plug gets pulled."
It has been a bit of a balancing act. The movie is a labor of love and McDonald has put a lot of time into it. He wants to do it as an artist, but he also needs to take jobs as they come. His career has always been that way. Television, film, theater, it all feeds into the life of an actor.
"The workaholic in me, or the work ethic in me, is rearing its head, going, 'Hey, you have four children, two in college. You better get your butt working here, boy.' I would go and pick up another job or two and months go by. Like doing Broadway is wonderful. It's fantastic. I'm having the time of my life. And I'm slowly going broke." He laughs. "There's no money. So you can't do it all the time. But you do these movies and you do these television shows, then you can afford to do the material on the Great White Way. Or doing a play in LA as well. But it just makes so much more noise when you're on the stage in the city of New York."
The work also allows McDonald to enjoy his outside passions: his family, baseball and being on the water.
"Just sitting on a lake [makes me happy]," McDonald says. "I'm a Aquarian, so I just love water. I live on a lake in California. I grew up on a lake in upstate New York when we moved out of the city. That is my most peaceful and almost rejuvenating time, to be on the water. Whether it be the ocean or a lake. I just find it not only nostalgic but actually rejuvenating. In another career, I could be a very happy sea captain."
Email us Let us know what you think.