Oh, the crazy life of a rock star. The wild parties, the girls, the screaming fans, the drugs, the hotels, the groveling sycophants, the long days on the road… It is all enough to go to a guy's head.
But not if that head is on someone as well-grounded and smart as John McCrea, leader of the popular band CAKE.
So, how was the CAKE lead singer and songwriter spending his afternoon recently when we called him to talk about his band's new album, Showroom of Compassion?
He was shopping for groceries. Hey, a rock star has gotta eat, right?
Luckily, nearly twenty years into a best-selling career that has spanned seven albums and several hit singles, McCrea has lived his life quietly enough that he can still do the normal, everyday thing.
Of course, he's not able to go completely incognito. "There's a frat guy in the supermarket pointing at my face, saying the word 'Cake,'" McCrea told me good-naturedly over the phone.
Still, for a guy who has built a body of work like McCrea, the dude is pretty down to Earth. In fact, a popular aspect of his current world tour is that on every stop, the band is giving a live tree to one lucky attendee for them to plant in their yards – a literal way of creating a living history.
Well known for his smart and often caustically funny lyrics and his trademark half-spoken, half-sung delivery, McCrea and CAKE exploded out of Sacramento, California in 1996 when the single "The Distance" from their second album Fashion Nugget saturated the airwaves.
After the tour for their popular 2004 disk Pressure Chief, McCrea could see the writing on the wall for the corporate music scene and decided to get his band released from their major label home to return to their indie roots. After a long gestation period – during which the band only released the 2007 stop-gap album, B-Sides and Rarities – CAKE returned with a bang earlier this year.
With the release of Showroom of Compassion – their first album of all-new original material since leaving Columbia – the group surprised many industry insiders by debuting at the top of the Billboard album sales chart. This renewed vigor has led to a massive world tour. And most importantly, McCrea and his band are doing it their way.
How did you first get into music?
Both of my parents played instruments. My mother played folk music on acoustic guitar. My dad played a lot of gypsy folk music on the accordion. So those were my first memories of having art around – the nights with the folk music and the nights with the Russian gypsy accordion music. So, it seemed like something that could be done – playing music. Then as I got older, I took piano lessons for a while. Once I stopped taking lessons, I just started playing like crazy, making up my own tunes.
I was reading that the band formed in Sacramento after you had spent a few years in LA trying to get a music career going. How weird was it that you finally were able to hit when you moved back home and away from the center of the music scene?
You know, I had a feeling that it would be a much better place to actually do what I wanted to do, mostly because of cheap rent. If a musician is working so many days a week just to pay rent, a musician is not playing music on those days. So it just made sense to me to live lower to the ground and spend more time playing music.
The band has been together for almost 20 years now. When you got started, did you ever imagine that you'd still be going all these years later?
For some reason I thought I would when I was just a kid. I don't know how to explain it, why I was so overly confident, but I thought I could do it. I think it helps when you believe in something. It helps it actually happen.
In 1996, when Fashion Nugget and particularly "The Distance" hit, how surreal was it when you guys were suddenly all over the radio and TV?
It was very strange. People becoming aware of the band happened, though, very, very slowly in the beginning. That helped it not be completely terrifying. We slowly built a following in Sacramento and we gradually moved to the Bay area and played shows in San Francisco, then gradually to Southern California and up north to Portland and Seattle. We got this thing going very incrementally. Sort of like putting a frog in lukewarm water and slowly raising the temperature. Yes, at a certain point, right around Fashion Nugget, the frog said, "Holy Shit! This is boiling water." So yeah, that was a little weird. And not really as satisfying as one might imagine it would be.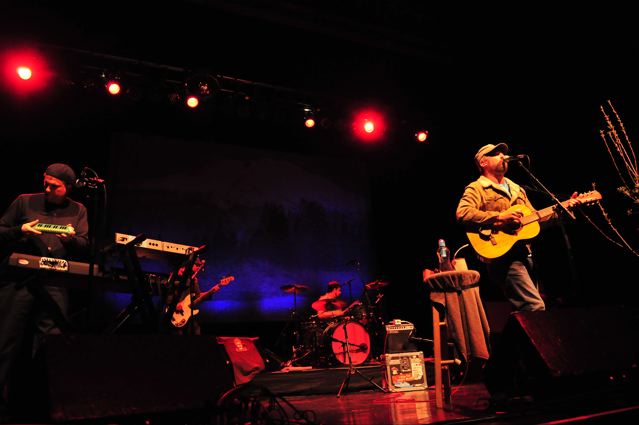 Showroom of Compassion is your first CD in seven years. Why was there such a long time between projects and is it nice to finally have some new music out there?
Yeah. I mean, we weren't idle. We actually had a lot of work to do. We realized after the last album [Pressure Chief] that it would probably be much better for us to be on a smaller label and maybe even our own label. So we found a way to get off of our label deal with Columbia. We had started out as an independent, self-released type of project with our first album Motorcade of Generosity. Then that was picked up by a label [Capricorn Records] that was swallowed by a bigger label [Volcano] and we found ourselves on a major label [Columbia]. So we'd gone through all the different configurations and as the value of recorded music began to precipitously decline, it occurred to us that the wasteful spending of major labels wasn't going to be a good thing to align ourselves with. If the product that you're selling is for all intents and purposes free for 19 year olds, it's not a good idea to have so many executives going out to dinner. So we got off of the label deal and we realized we had to decide what to do – and quickly. We decided to release the B-Sides and Rarities album, which is a lot of music that hadn't really seen very much light of day and released it on our own label to see what happened. And to see how much work it was, too, because we're musicians, we really didn't want to have to become businesspeople as a full-time job. It ended up working out okay, so that gave us confidence to go ahead and continue our own label. Before we started working on the next studio album, we decided we wanted to convert our studio to solar power and make a 100% solar-electrical produced album. So we did that. God, we've just gone through a lot of reconfiguring of our studio and our business, generally, so that took time. Took time for us, because we really aren't business people or carpenters, we're musicians.
Like you mentioned, the album was recorded completely using solar energy and also the CD case was made with recycled paper and vegetable dye. When did you decide to go completely green on the album, or at least as much as possible?
I won't say that it is completely green, but we're leaning in that direction in a way that feels right for us, given the circumstances in the world. We decided we wanted to do it years and years ago, we just were so busy in that… I don't want to say rat race, but just the cycle of releasing albums, touring like crazy, then releasing [more] albums. We really didn't have much of a break for a long, long time. There were things that we wanted to do like converting our studio that we just weren't in one place long enough [to get done] a lot of times. It's worked out well. We've toured quite a bit in Europe and in Germany they boast being the number one producer in the world of solar electricity. That's because they passed laws that really incentivized home owners and businesses to make the switch. We haven't really done that as dramatically here. But it occurred to me that Germany is not a particularly sunny country – it's actually pretty gloomy usually when we're there. Nothing against Germany, you know what I'm saying. It just occurred to us that it was wrong that our studio wasn't solar powered, being in Northern California.
I was reading that this was the first album in which you allowed any piano or reverb. Why did you make this decision and do you like how they turned out?
I do. Initially for our very first album, Motorcade of Generosity, it was sort of a reactionary, hostile gesture against a lot of music that we thought at the time was bombastic and grandiose. We just questioned the assumption that all vocals had to have reverb and we thought maybe it would create a lot more sonic space to take away some of that reverb. So, that's what we did. It's crazy. It's very unusual. If you listen to albums by lots of other great bands, you don't hear anybody with nothing at all on their voice. So it was a very weird thing to do, and I think it was right for a lot of the music that we made. That said, I had some songs that I wanted to do on this album that really I think were a different kind of songs, that needed to have a little bit of reverb. I guess I wasn't feeling so hostile against that other aesthetic and I just thought what the hell?
One great thing about the band is you have never been afraid of playing with styles. "Got to Move" is a ballad, "Long Time" is more new wave, "Mustache Man" is rock, "The Winter" sort of has a Brit pop feel, "Bound Away" is country, the instrumentation of "Italian Guy" borders on classical and "Teenage Pregnancy" is even an old-fashioned rock instrumental. Do you look to experiment with styles in your music?
Yeah, I've never chosen a genre. I really think there's music that's great from just about every genre. I could never say, "Oh, I don't like opera" or "I don't like country music." There's amazing music from every genre. If you're not busy using music as a cultural badge of identification for yourself, you can really open yourself up to amazing things. I've always felt this way. I've always felt like it was just a waste of energy to so narrowly assert a purity of genre or purity of culture.
You're the main songwriter in the group, but everyone in the band contributes as well. How do you and the group handle the songwriting?
I write songs over long periods of time, sometimes. I carry around a notebook and I take notes all the time. Ideas build into songs. Once I have songs, I come into the studio and present them to the band. It's a process. The process that commences at that point is the process of arranging those songs. It's an intense process and it takes a long time sometimes. It took an exceptionally long time with this album because it was probably one of the more democratic processes that we've had. As we all know, democracy can be sometimes very slow. I mean, I guess they're shutting down the Federal Government tomorrow, as you know. [There were plans to temporarily shut down the US Government the next day after this interview due to a budgetary fight, but it was avoided at the last minute.] So, we shut down the Federal Government a few times during the course of recording this album, but we always reopened it and it wasn't as expensive as what's happening now.
Showroom of Compassion debuted at the top of the Billboard albums chart – I believe your first #1 album. Was it cool to see that the band was missed like that?
Yeah. Yeah. It was really great, because staying away for seven years is probably not a smart career move by any stretch of the imagination. It was really strange that people in this current cultural climate could remember something that long. I had felt like we had developed a relationship with those people, especially the people that bought the album the first week – without really having listened to it or heard much about it or what other people had to say. They just trusted us. That made me a little weepy, just to think that we had developed that kind of relationship.
On the other hand, that fact has been sort of shown as an example that the record business is sort of dying, since it was the lowest selling #1 in the history of the charts. It also sold less than some of your older albums that didn't reach #1.
Yeah, but I guess the thing is… we're not supposed to be #1. We don't kid ourselves about that. It's that we are close to the same number on this album after a period of seven years of precipitous decline in the music industry generally, we were able to sell the same number in our first week – or just about the same as we did on Pressure Chief seven years earlier. As we were recording this album, we did not kid ourselves. We were aware that maybe by the time that we finished this album, no one will be buying music anymore.
Right. Obviously, it isn't the band's fault that fewer people buy CDs these days…
It's not just that, though. They're not buying anything. The decline is everywhere. Not just CDs, but also MP3s. If you're 19, you realize I don't need to pay for this. So it's a little daunting, especially, after sending two and a half years, almost three years working on something.
The band has stayed in the public eye in some offbeat ways, too. For example "Short Skirt/Long Jacket" became the theme song to the TV series Chuck. Do you think as a musician that things like television and the Internet are a good way to get their music out to the masses now that the music industry is so fragmented?
Imploding may be a good word for it. (chuckles) I mean, yeah. But ultimately, people that make TV shows, they are all freaking out now, too. Movies and television are next. The idea that information wants to be free is actually a really noble sort of idea. But another noble idea would be to make sandwiches free for the people that make culture. If they could just arrange some sort of barter system, that would be more consistent.
Is it nice to get back on the road? How is the new tour going?
It's going really well. We had some really good shows. People are liking the new material and it seems like they know it already. We just played London, Paris and Amsterdam – and we really thought people would have forgotten about us there, because it's been even longer since we've been there, but we had very good shows and we'll probably go back soon.
What would people be surprised to know about you?
I have four chickens. I built a chicken coop last year. I have four hens that lay about four eggs every day. I named them 1980s girl names, so there's Ashley, Brittany, Trish and… uhh, I always forget the last one. (laughs) But, anyway, I named them these 1980s girls names and it's actually great to build a chicken coop and the eggs are more delicious than the store-bought eggs.
How would you like for people to see Cake's music?
Initially, I wanted people to understand what we were doing. In the very beginning of our journey I wanted people to understand that we were being small for a reason. It wasn't because we were weak. It was because we sort of hated what was going on at the time and we wanted to do something different. But now, I don't really care. I want the music to be useful for many different kinds of people. That's probably the best way forward. I don't necessarily demand that people understand what I'm doing, exactly. I just want them to find a useful way of enjoying it.
Are there any misconceptions out there you'd like to clear up?
I think that our music is actually pretty sad as well as funny. Some people interpret our music as merely comedic, probably because we weren't really big sounding. They assumed that since there were no veins bulging from my neck and there wasn't a muscular sort of tall-truck feel to it, that it must be the court jester. But actually there is a tear in the eye of the court jester. If you listen to a whole album, there are actually a lot of different kinds of emotion. It's not all very funny.
CHECK OUT CAKE'S VIDEO FOR THE NEW SINGLE "SICK OF YOU!"
Email us Let us know what you think.