PopEntertainment.com > Feature Interviews - Theater > Feature Interviews A to E > Bo Eason
Bo Eason

Run of the Runt

By Ronald Sklar
Copyright ©2008 PopEntertainment.com. All rights reserved. Posted: February 14, 2008.
Even the words "driven" or "obsessive" would be considered laughable understatements when describing Bo Eason. His semi-autobiographical off-Broadway play, Runt of the Litter, is about a little engine that could; it's pleasing critics and audiences alike and making its way from New York to Hollywood.
Also doing the pleasing is Eason himself, who stars in this one-man show about his struggles in and out of the stadium. Growing up in a football-obsessed family in small-town Texas, the sport is in his blood, both when spilling it on the field or spilling it – and his guts – onto paper.
The former collegiate All-American and safety for the Houston Oilers (1984-89) – and now a sought-after actor and writer – had nothing handed to him in life except a football.
And even that, he busted his ass for.
In fact, the word "no" was usually his green light.
"People told me my whole life that I couldn't," he recalls in the empty theater at 37 Arts in Manhattan, a few hours before showtime. "And it would set me back, and I would get so mad that I would cry. And I would go and train harder. I would do whatever it took to get that anger and that passion out of me, because it was driving me crazy that people would say, 'oh, you can't do it. You're too small. You can't [play football at] our school. You're too this or that. I always had that coming at me but I never stopped."
Typical safety. Yet there was nothing safe about the likelihood of his dream coming true.
His determination to be a part of a sport, despite his size or ability – and to eventually excel in a big way – was just short of Glenn Close in Fatal Attraction.
"I got cut from my first baseball tryout when I was thirteen," he says, "and I grew up in a tiny little town. Every little boy basically had to play. I was so embarrassed and the coach, who I still know to this day, always says to me, 'I'm the only coach ever to cut you.'
"But what I did, when I got cut when I was thirteen, is that I never went away. I did not go away. I'm showing up to practice and everybody is like, 'why are you here? You're not on the team.' And I say, 'no, I'm just going to practice.'
"They would say, 'what do you mean, practice? You can't practice. You're not on the team!" And I said, 'If I'm not good enough to be on the team than I need the most practice.'
"That's how my brain worked. I need practice more than anybody. You guys don't need practice. You are already on the team."
If you've ever seen a sports movie, you know what happens next.
"Eventually, the coach let me play," Eason says, "because I showed up more than the other guys who were on the team. Eventually, he gave me a uniform and let me play."
This would make for a nice little anecdote, but, amazingly, the story doesn't end there. Eason's focused way of doing things stayed with him, even through college, as he actually stuck with his twenty-year plan to forge a career in football.
"In college [football tryouts]," he says. "I was sent home. But I didn't go home. I just stayed and stayed and stayed. And kept going to practice and going to practice.
"The coaches would walk around saying, 'who is this kid? Didn't we send him home like two weeks ago? We don't want him around. Get him out of here.' But I just kept on showing up and showing up, in goofy uniforms that didn't match the team's. Eventually, they said that if that kid is that committed, let's keep him around."
Good thing, too. Eason eventually made All-American, and the pros.
Psychoanalysts would have a field day dissecting this patient, but most of what made Eason run was obvious. He had an older brother, Tony, who was a football hero, and would eventually become a quarterback for the New England Patriots. He looked up to him, while simultaneously trying to dig himself out from his shadow. As the subtitle to the show reads: He Was Second To One.
The play, though mostly grounded in autobiographical fact, stirs in an intriguing "what if:" Eason himself having to go head-to-head with his big brother on the field. It makes for great drama, but at one point, the brother-vs.-brother conflict had almost become non-fiction.
"As fate would have it," Eason says, "right when we were going to play that game, the players went on strike. That game didn't happen. So we never played against each other. That always kind of gnawed at me. I was relieved that I didn't have to make the decisions that I have to make in the story. It's really the reason I wrote the play. I think it was ten or twelve years after that. I just said, 'wow, what if I had to get dressed to achieve my twenty-year plan for the last time, and the obstacle being my brother standing in the way of all the dreams that I had in my whole life. I would be playing against the person that I love the most – and the person most responsible for me getting there."
Eason's twenty-year plan, starting at age nine, was to become a professional football player. Unlike most kids who conceive and stick to a plan like this for about fifteen minutes, Eason saw it through to the end.
"I didn't come up with the whole plan at nine, but it built," he says. "I kept growing it. I didn't know the position of safety when I was nine, but when I was thirteen, I did. So I said, 'safety, that's what I gotta play.'
"My brother and I played catch for two and a half hours every day. If you play like that, that was about a thousand balls [per day]. Later in my life, because I was on this roll of catching a thousand a day, I would just bounce them off the wall because I would run out of friends to throw them to me. You can go much faster that way."
Life came at him as fast as the footballs. After his stint in the pros, he pursued his other long-time interest in becoming an actor. He appeared in Miami Rhapsody with Sarah Jessica Parker and will appear in Pride and Glory with Edward Norton and Colin Farrell. He also made numerous TV appearances, including ER.
"I always had one eye on our theater department," he says about his first introduction to drama in high school. "Our theater department was really small too. And they'd put on Our Town and Skin of Our Teeth and all these plays. And I would always go and I would always watch but I would never tell anybody. I loved stage acting. It just looked like a lot of fun. It looked like an athletic event to me. That's how I saw it.
"Once I attended college, I majored in political science, but I minored in drama. So I would always sneak over after practice and go to acting classes. But I never told anybody. Those two worlds just never crossed over. I thought everyone would tease me.
"I got drafted in the pros, and in the off season I would study acting. And as soon as I finished completely with the pros, I moved straight to New York and I started studying like a madman. Five, six, seven, eight years in a theater, just putting up scene after scene. Trying to learn it. Trying to get good at it."
Sound familiar? That incredible discipline followed him when he decided to write Runt of the Litter, which started out as an exercise in an acting class, but has now been finely honed since 2002 as a one-man show.
He says, "I would go to a Borders bookstore in Hollywood near where I lived, and write for three hours a day, every day, for two years. Writing hasn't been fun for me. It's lonely."
The loneliness paid off, though, as the play has aroused the interest of many hot young actors such as Leonardo DiCaprio, Toby Maguire, Nicholas Cage, James Franco, and Ryan Phillippe.
In fact, DiCaprio has commissioned Eason to write a screenplay on the 1924 Olympic Rugby team, which will be produced by DiCaprio's production company. He is also working on a remake of the seventies TV-movie football classic, Something for Joey.
Runt of the Litter is directed by the well-respected Larry Moss (who has also been on the teaching staff of Juilliard and Circle in the Square). Eason's wife is the producer of the play, and he is a late-life dad of two young children.
The play itself has been bought by Frank Darabont (writer and director of The Shawshank Redemption and The Green Mile) for an adaption to the screen (written by Eason).
For Eason, the play itself is more Ordinary People than Rudy.
"I had no idea it was dark," he says. "Larry Moss saw me do it in his class. To me, it was like this love letter to my family. It was motivational. It was inspiring. It was my life. It was what I knew. But Larry just shook his head and said that is one of the most tragic stories he's ever heard. I didn't see it like that. I did realize that my life has some tragedy to it, but because it was my life, it didn't seem that way. I didn't know it was as dark as it was. People like it, but they tell me that it's violent and dark. I just never thought that it would go in that direction."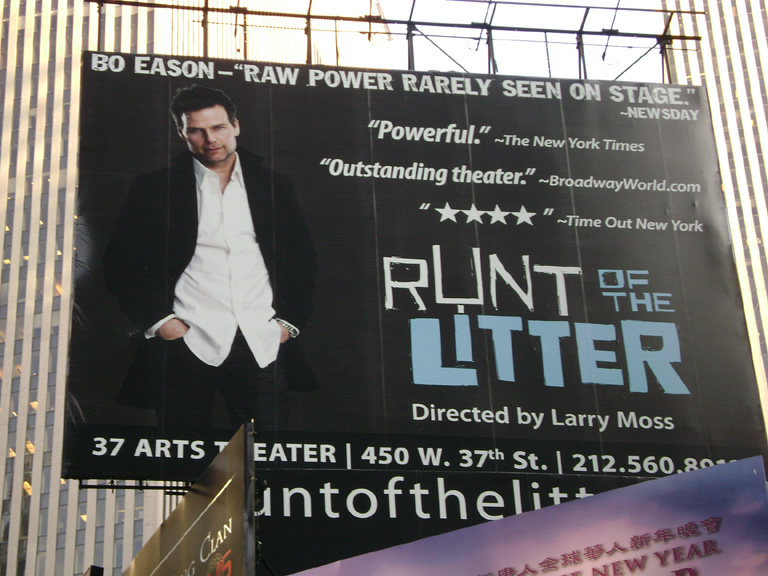 Although his own father had never seen a play in his life until he saw his son perform, and Eason himself has to keep his energy level high for such a daily psychological and physical demand, Eason says it's all for the family.
"This story is about the real relationship with your mom and your dad, not the kind you see on TV, but the real ones. Those are touching, man, because they are so dangerous and scary and painful. Trying to please them and trying to get love. Trying to be a success in their eyes. That's what I mean by dark. It hits you so hard."
Speaking of being hit hard, he now sees without the blinders on.
"I'll be forty-seven next month," he says. "Now, at forty-seven, I look back at that little nine-year-old as if I were not him, and I think, man, that little nine-year-old was touched by something."
His unorthodox method for getting to where he needs to be is considered admirable and unusual by everybody but him.
"It's the only way I know to bring what I dream about into existence," he says. "It's the only way I know how."
For now, with his plate this full, his production continues to build it so that they will come.
Email us Let us know what you think.
Features Return to the features page.
Photo Credits:
#1 ©2008. Courtesy of Runtofthelitter.com.
#2 ©2008. Courtesy of Runtofthelitter.com.
#3 ©1988. Courtesy of Runtofthelitter.com.
#4 ©2008. Courtesy of Runtofthelitter.com.
#5 ©2008. Courtesy of Runtofthelitter.com.
Copyright ©2008 PopEntertainment.com. All rights reserved. Posted: February 14, 2008.