PopEntertainment.com > Feature Interviews - Actors > Feature Interviews - Actresses > Feature Interviews A to E > Nikki Blonsky and Zac Efron
Nikki Blonsky and Zac Efron

Hair Raising Success in Hairspray

by Brad Balfour
Copyright ©2007 PopEntertainment.com. All rights reserved. Posted: August 13, 2007.
What a way to kick off a career. From high school student to major motion picture lead, 17 year-old Nikki Blonsky's star turn as Tracy Turnblad in Hairspray, (the film version of the Broadway musical), deserves all the accolades the film has been garnering. In telling the tale of this plus-sized teenager's love for dancing – especially with her friends from the other side of the tracks, Baltimore's Negro community – audiences are entreated a mythical version of the real fight to integrate an actual TV show that was broadcast in that city during the racially charged '60s.
By matching Nikki up with the burgeoning teen heart-throb Zac Efron (of High School Musical fame) the film director, Adam Shankman, and producers (who accrued a surprise hit with Chicago) scored an additional coup for this caffeine-paced, faux-period musical – a sometimes-worthy successor to both the Broadway show and the original film that inspired them both, John Water's Hairspray.
Had you seen Hairspray – the play or John Waters' original – before you did this film?
Nikki Blonsky: Yeah, really funny story. I was in my third month of callbacks during this five-and-a-half-month process, and the day after one of my callbacks I was sitting watching the Disney channel with my brother. He was watching High School Musical and he said, "I know they're doing a big Tracy search, but do you know who they will get to play Link?" And I said, "Well, why don't they just get that kid? He's good looking. He sings. He dances. He acts." And wouldn't you know, a week after I got cast, I got a call saying, "You know, we just cast your boy from High School Musical." I said, you guys could have asked me, I could have told you that three months ago."
You were working but weren't quite on the radar, and then, all of a sudden, Disney's High School Musical explodes.
Zac Efron: It's funny. We do have similar stories. I felt like, coming into Hairspray, I had slightly more experience. In the end, of course, I learned more from this girl than I could ever share with her. But I'm very blessed. I'm glad that I'm involved with musicals because I think with the young audience that we are educating, I'm making them aware of [musicals], and hopefully making them more mainstream. You know, it could be a popular genre in the future and I would love to stay involved with them for as long as I can.
And for you Nikki?
Nikki Blonsky: This has been a dream come true. I saw Hairspray on Broadway when I was fifteen years old and fell in love with it. You know, unfortunately, Broadway is just in New York, so unless you come to New York or live in New York, you [won't] get the experience of Hairspray on Broadway. But this is a movie that is going everywhere, so I'm so excited to bring Tracy to life and bring her views to little kids, and show them different is ok and uniqueness is beautiful.
The bottom line of this film is that being different is okay and it's okay to accept that.
Nikki Blonsky: It's about being who you are, being proud of who you are and embracing it, accepting others and accepting yourself, because you can't accept and love others until you love and accept yourself.
What did you two you relate to the most about your characters?
Zac Efron: Oh gosh, I wish I could relate to Link. At the beginning, he's a fun character to play. He's a little bit shallow and enjoying the limelight of being a star on a local daytime TV show, so there wasn't much I could relate to Link. I guess it was that he loved dancing and singing, and that was always something I loved doing growing up. That was my outlet.
Nikki Blonsky: I was just a 17-year-old girl with a big dream, and Tracy is just a 17-year-old with a big dream. We both just wanted to be out there dancing and singing and performing, and we just wanted people to believe in us. Adam Shankman was my Corny Collins, he believed with me.
Zac Efron: Their stories are so similar when you look at it. As far as I'm concerned, Nikki is a real-life Tracy. It's great, such a pleasure.
What were you doing before that prepared you for this?
Nikki Blonsky: I was doing my high school shows. Honestly, my high school was the only high school in the country that does a fully worked, orchestrated opera every year. We took on very large shows like Sweeney Todd and Carmen. I got to play Carmen and Mrs. Lovett. These were roles that really required a lot of time and dedication. I mean, we did a fully orchestrated three-hour opera in French. Not a lot of high schools [do that].
Which high school?
Nikki Blonsky: I went to the Great Neck Village School, which is an alternative high school. You can do your sports or your theater at either of the other two high schools. So I went to Great Neck South High School to do my theater.
Where did you go to high school?
Zac Efron: I went to Arroyo Grande High School in central California.
No singing or dancing there?
Zac Efron: Well, I did lots of community theater. That's how I got started, really. That's why it was a pleasure to come back and do a musical, because it's really how I fell in love with performing, through musicals. I wasn't so much involved in my high school. But there were various community theater and very professional theater houses that I loved to perform at, and I was blessed enough to get cast in plays there.
What was your high school experience like? Was it comfortable because high school can be really weird?
Zac Efron: Mine was relatively average, because I was a good student. I tried to get really good grades, and I did. I left my high school my junior year, with like a 4.3. I was a great student. I was so focused on academics that I really didn't have time to worry about the pressures of high school. It really was not a tough time for me.
You played the nicest guy in the film, basically. The hip guy in school, who approached the girl who didn't really fit in...
Zac Efron: That's what I loved about the past few characters I got to play – like Troy Bolton from High School Musical, but also Link. You enjoy their characters because they are nice guys, and that's what you don't find in high school. Most of the popular kids are jerks. That's the thing with Link. When he meets Tracy, you see a real character come through and you see him take control. I think that's magical, [that] she brings out the best in everyone.
Nikki Blonsky: My high school experience was a great one. That's when I got into theater and I started performing. It was a great experience for me. Middle school and elementary school, however… not so much. I was teased a lot. I had a lot of Ambers in my life, so I know what it's like. When Tracy is made fun of by Amber and Wilma, I know what it's like. It was easy for me to tap into those emotions.
Tracy if you could now turn around to Amber and say...
Nikki Blonsky: You know, it's funny; I've gone home now and see a lot of those girls. Everybody deserves a second chance, so I'm talking to them, and I know who my real friends are.
Well, you'll be moving out of Great Neck soon enough.
Nikki Blonsky: Don't tell my mother [laughs].
You probably already have your agents in place.
Nikki Blonsky: I'm working with William Morris here in New York City, and I'm very excited. New York City is one of the best places to be.
Where did you study dance?
Nikki Blonsky: Nowhere. I learned I was not a dancer before Hairspray. So all the dancing you see in the movie, I just shook what my mama gave me.
Zac Efron: My mama didn't give me anything, so I just shook what I had.
Seeing how you wear your hair now, how does it feel for you to wear it in 50s styles like that big beehive?
Zac Efron: It's great! Actually, I get to go brag around now, because I did change a little bit to play Link. I gained 15 pounds. That was fun for me, but of course now I get to run and talk about it, pretend how dedicated I am.
Nikki Blonsky: My hair was very big, but I love my hair! It was the first time I ever reached 5 feet because I'm 4"10. It was the final piece for Tracy, the final way of getting into that character and letting her emerge.
How long did it take you to put on?
Nikki Blonsky: It took us about an hour and a half to get it all ratted up and perfectly round.
If this movie makes 100 million bucks, and you made a sequel and we were living in a perfect world, what would you want or expect for the two characters?
Zac Efron: Oh, my gosh – I can't imagine. That would be so much fun.
Nikki Blonsky: That would be amazing! I think it would be fun to see them together.
Married?
Nikki Blonsky: Wow!
Zac Efron: Like 20 years down the road, Tracy is making sandwiches for Link.
Nikki Blonsky: I don't know. I think anything with this cast would be great.
What was it like working with Queen Latifah?
Nikki Blonsky: That's my girl! She's been an idol of mine growing up, because she was always a beautiful woman, proud of who she was, embraced who she was, shared it with the world and didn't apologize for it. So, for me, to work with one of my idols was one of the coolest experiences of my life, and now to know her for the person she is, the incredible human being, is really the most rewarding thing.
Zac Efron: She's cool! I feel like such a dork. She is so awesome. I want to hang out with her more.
And getting to work with John Travolta, too?
Nikki Blonsky: Yes, definitely! That's an experience within itself.
Zac Efron: The others are as cool as John, but it's the confidence with which he approaches everything – he just knows that he is cool. You even see a little bit of it in Edna. It's so iconic, and I'll always admire his courage, the way he always goes for it. It's marvelous.
Did you see the original John Waters' Hairspray?
Zac Efron: Yeah. We had like movie nights. (to Nikki) Did you ever come to one of those? We had a movie night in Toronto, [with] Hairspray and we'd all just laugh. It was so funny because we found out Brittany [Snow] really does look like the original Amber. We would laugh so hard.
Nikki Blonsky: John Waters is a genius.
Zac Efron: Yeah.
Nikki Blonsky: Hands down.
Did you get the chance to talk to Ricki Lake [who played the original Tracy]?
Nikki Blonsky: Yes, I did. I actually still am in contact with Ricki. We email each other all the time. She was there for a whole day. During "You Can't Stop the Beat." It was just incredible to have her there.
You didn't get her down to dance. Did she join?
Nikki Blonsky: Oh, yeah! She is so sweet, just like the older sister I always wanted.
Was she in the song for the soundtrack?
Nikki Blonsky: Yes, Ricki, Marissa – all three of us were in a recording studio together, in booths right next to each other, and we all sang the song. It was a great experience. Tracy Trio, I think we should take it on the road.
Was Harvey [Fierstein, who played mother Edna in the Broadway show] there too?
Nikki Blonsky: No, they just added him in.
Are you doing a recording of original [material] for yourself or recording outside of movie and theater?
Nikki Blonsky: I love to write lyrics for myself and other people. I've started writing and compiling material for a possible album in the future.
Zac?
Nikki Blonsky: We were talking about an album of duets.
Zac Efron: We can do duets, but I think what everyone expects of me is to make an album. It would be an easy road for me.
You could record one duet.
Zac Efron: Oh, of course, I would love to record songs. But I'm not going to go and have the Zac Efron introductory album.
How long will it be until you get tired of the teen idol thing and want to go out and do your Pulp Fiction; go out and shoot people?
Zac Efron: As I get older, I definitely get interested in certain kinds of films. Of course, I'm in love with Pulp Fiction, and so many adult films, and I don't know when that transition will be. It's usually just finding projects that interest me. Curse words and drugs are not necessarily interesting, but it's the characters and drama and situation that they are put in. If I find a heroic character in a nitty gritty story, I would love to play that character. Although I love musicals and continue to be in them, they are not the only genre I would love to do. I would love to try everything from horror to action to straight comedy – so much in this business that you can do and it's all in different levels.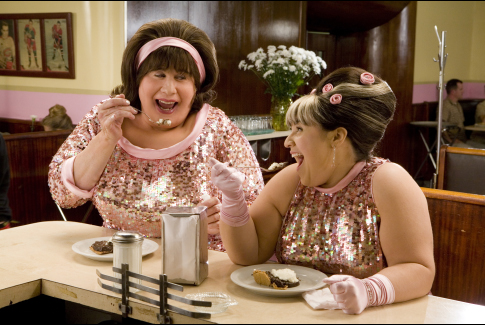 Do you have thoughts of similar roles?
Nikki Blonsky: Absolutely. It's all about the character and connection you make, how you portray them. So I can't wait to dive into something serious, dramas, and also some straight comedies as well. But I think there are so many great venues to take in this business, and I can't wait to explore them all.
Do you have anything else that you completed?
Nikki Blonsky: Yes, I'm getting ready to start on my second movie. I can't say exactly what it is yet, but I can say it will be filming very close.
How excited are you about High School Musical 2? What's going to be different about it, so it's not a repeat of the original?
Zac Efron: In the first movie we established the characters. In the second movie we just dealt deeper. By now we know what the characters are like, and of course, the kids are going to know them individually. With such naturally different characters, you are going to have drama and hilarity. With this cast we got such great music. You'll have the same great cast, same director, and we have tons of new original music. I'm glad we are going to have it one more time.
Would you make it a concept of Haunted High School Musical?
Zac Efron: I think "haunted" is no longer in the picture. I think everyone was a nay on that idea. Now I think it will be much more of a real story about the Wildcats' legacy and how they lead this time, and senior year. I think that's so much more dramatic and real.
That's Part Three?
Zac Efron: Yeah, that would be part three. But at this point it's in the studio's hands. They haven't really come to the cast yet. Hopefully we will see a project start.
Are they still talking theatrical for Three?
Zac Efron: Absolutely.
Zac, I'm interviewing Vanessa [Anne Hudgens] next week. What do you find interesting about her as an actress and person?
Zac Efron: I love watching High School Musical 1. I didn't go to see the live show of High School Musical, but I watched the concert DVD. The first time I saw the movie; it jumped out to me how much Vanessa could really light up the screen. She is a brilliant performer. She's such a kind, caring individual and that just really shows through the character she plays, like Tracy. I like working with girls with charisma and I think Vanessa really has that. Vanessa is incredible, she really stands above the rest of the competition and I admire her for that.
Are you going to do the movie of Footloose – based on the musical?
Zac Efron: Yeah, it was just an idea brought to me by some friends. In particular, the way they would do the movie was very interesting to me and [I was] definitely intrigued. I got the feeling that we wouldn't just be remaking Kevin Bacon's brilliant movie. There is no way I would attempt to take on that idea. They kept a few things. First of all, it would be a full-blown musical, which is interesting, such great music to build on. We would put in some new elements and try to make it our own movie. I don't want to take away from Kevin Bacon's legendary performance.
Are you going to be a guest in Hairspray on Broadway?
Zac Efron: Well, since we both started in theater, that's always a dream come true. That's how you catch the bug – by performing live and hearing the applause and singing songs for an audience that is generally intrigued. There is an instant gratification at the end of every number. I personally would love to go back to Broadway.
Nikki Blonsky: I as well.
Zac Efron: Who knows, maybe we can do it as a duo, as Link and Tracy.
Email us Let us know what you think.
Features Return to the features page.
Photo Credits:
#1 © 2007 Brad Balfour. All rights reserved.
#2 © 2007 David James. Courtesy of New Line Pictures. All rights reserved.
#3 © 2007 David James. Courtesy of New Line Pictures. All rights reserved.
#4 © 2007 David James. Courtesy of New Line Pictures. All rights reserved.
#5 © 2007 David James. Courtesy of New Line Pictures. All rights reserved.
#6 © 2007 David James. Courtesy of New Line Pictures. All rights reserved.
#7 © 2007 David James. Courtesy of New Line Pictures. All rights reserved.
#8 © 2007 Courtesy of Walt Disney Corp. All rights reserved.
Copyright ©2007 PopEntertainment.com. All rights reserved. Posted: August 13, 2007.