PopEntertainment.com > Feature Interviews - Theater > Feature Interviews - Actors > Feature Interviews A to E > Craig Bierko
Craig Bierko

Bets on a Revived Guys and Dolls

by Brad Balfour
Copyright ©2009 PopEntertainment.com. All rights reserved. Posted: April 18, 2009.
What uncanny timing for a revival of Guys and Dolls. Based on gritty writer Damon Runyon's Depression-era short stories (and one in particular, "The Idyll of Miss Sarah Brown"), this version appears set in the Great Depression, peopled by characters of questionable morality struggling to survive, maybe thrive, and – while generally avoiding it on the surface – to find love and commitment in the midst of it all.

So it must be tough to be in a show that's gotten mixed reviews after you've worked so hard to realize your character, hammering away at learning the songs, hitting the right note (musically and theatrically), all the while getting the wry tone in place. And this isn't for just any musical. It's for one of the greatest Broadway shows of all time, one shadowed by the spectre of the late Marlon Brando – one of the greatest actors of all time. Brando played, if not the definitive version of Sky Masterson in the 1955 Samuel Goldwyn Company film version, then, essentially, a unique one.

With all that in mind, Guys and Dolls could come off as dated, a bit cranky and crusty, or even over-scrubbed if rendered in a too-sanitized fashion. That's not so much the case here, because veteran director Des McAnuff (his hit Jersey Boys got its period right) strives, though not entirely succeeds, in serving up both "a simultaneously razzmatazz and tawdry affair," as Theatermania's reviewer put it.

Armed with Frank Loesser's grand lyrics and score, and the dead-on book by Jo Swerling and Abe Burrows, this show guns for grit and sentiment in "a mythic New York where a kind of perpetual sense of hopefulness exists, even when things are at their worst."

And that's where a solid New York theater veteran like Craig Bierko comes in. Since this version was cast with two neophytes to Broadway musicals – Oliver Platt (Nathan Detroit) and Lauren Graham (Adelaide) – it needed the strong broad experienced shoulders of the 6'4" Bierko to lend support to this production. Along with Kate Jennings Grant (playing Sarah Brown of the "Save a Soul" Mission), Bierko (as gambler Sky Masterson) delivers some of the most seductive, time-tested love tunes of the show.

With his 25 years of experience, from delivering a Tony and Drama Desk Award nominated performance as Professor Harold Hill in The Music Man to his stint on Boston Legal (as Jeff Coho), the square-jawed Bierko was a sensible choice to be in this show (currently playing at the Nederlander Theater). Also he was certainly a smart choice of actor to be interviewed about the state of Broadway and the world in this exclusive Q & A.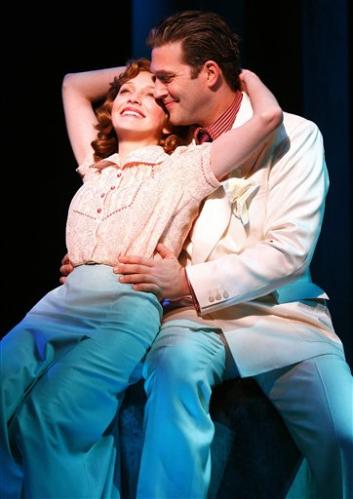 This show has a dramatic element to it that enhances it as a musical.

It's deceptive. It's a spoonful of sugar. Aside from what I think is a brilliantly talented handful of co-stars that I'm blessed with, I think the reason you appreciated it was because [of director] Des McAnuff, whose directing was very sure handed, and realizes we've been handed the keys to a Ferrari. This musical works, and is as close to perfect as an American musical can be. The mistake that a lot of people make with musicals when they come over here is, they'll take a Ferrari and paint flames on it and think it's going to go faster. There's an argument that you're actually slowing it down. To extend the metaphor, [McAnuff] doesn't paint flames on a Ferrari, he repaves the track – the things he's done with the LED screen, the things he's done with casting choices, and also making sure that with each character he's lifted out a specific attribute, which is usually, what does this person want? How has it been working for them so far? Where's the point where they realize they're completely wrong, and if they don't change their way of thinking, they're going to be alone the rest of their lives? That's the subliminal message being sent through this musical, and it's a message that every human being over 30 can relate to. Everybody's been all four of the main characters. Everybody's been running from somebody, been running after somebody, or had a childish preoccupation that they have had to give up. There are even people who've hidden behind morality and discovered, like Sarah, that they're truly just hiding from the world, and that God isn't impressed.

In my opinion, Adelaide and Nathan are two of a kind. It's easy for me to say – I'm not playing them. They're idiots, they're morons. But they're two of a kind, so it's sweet. They're made out of lead. They're very sweet, they love each other very much, they're operators and schemers, and they're lower rung. Sky and Sarah are also two of a kind. The interesting thing to me, and the reason why this thing is ahead of its time – it was written [in the] late '40s or '50s [the first Broadway opening was November 1950] – she's hiding behind the Bible, he's hiding behind this code of being a sharpie, and they're both prevented from making contact with other human beings. It's almost like God is saying: "I created the world, but I don't need you to sing to me on Sundays; I'd rather you use that day to connect with other human beings."

Did it make sense to revive it now because of the times?

Maybe that's true but a good play is a good play. It's a great story, so rich and compelling. It's a masterpiece and stands up any time you do it. I don't think there's a time not to do a great play, though certainly there are times not to do horrible plays. And to go back to the Ferrari metaphor, it's always nice to see a beautiful car take a couple spins around the track.

This play has a relevant theme, besides just the ever-relevant theme of romance – especially if you put it into the context of the '30s. People turned to crime because, what other options were there? To put that on a Broadway stage during the '50s was a radical thing. Now, it's not so radical. We've had lots of plays about the dark side of life: Gypsy, Cabaret, Fiddler on the Roof, even Sweeney Todd.

Every single play you've mentioned, they've come back and somebody brilliant has reinvented that play, and, largely, it's fallen flat. That's because these are American musicals – that is, a light presentation; it is fluff pastry with a meat center. The minute you put the meat on the outside, it falls apart, it doesn't work. The whole recipe falls apart. You don't need to talk about gangsters and Depression and all that stuff. You can imply that stuff. But what people are responding to is: "I'm so afraid of being alone, even with this person I'm with, I'm afraid of being alone."


But it was the idea that even gangsters have those feelings – that's what was fresh – The Sopranos of its day.

People love to be told stories, but it's the sugar that draws you into the theater. This is a spiritual play. This is a play let's face it, that was put mostly together by Jews. I wouldn't necessarily say this is a Christian play, although it uses the mission church, but it is about God. These were men of God. I don't think they were atheists. This is a deeply spiritual play. Sky Masterson – Obadiah [Sky's birth name], by the way, is the guy in the Bible who leads everybody to God – goes down into the sewer, into Hell, to find the sinners. He bares himself, throws out all of his material stuff on one bet; he may have lost the bet, but he's willing to do that. He's willing to walk away from everything because he just wants to connect with God. Maybe I was going too far because I got excited about connecting the dots here that I went: Sky Masterson, Sky Masterson... Sky Master's son. That was the point where Des went, "Don't go nuts on me!"

And that's the novelist Damon Runyon, [whose stories] the play is based on. If you break the elements down, it's a witnessing event. The moment at the end of "Luck Be a Lady," the first day, Des said, "I've never seen this before and I've always wanted to see it: I don't want you to sing it to the guys, I want you to sing it right to – it could be God or whatever you believe in – and I want you on your knees." So I said, "Des, they're going to laugh." And he said, "Maybe some will, but I'm not interested in them." He was absolutely certain that this man needed to be brought to his knees. I really fought him on it right into previews. You don't hear anything, so you don't know what people are responding to. There hadn't been a laugh. I can't know what people are responding to, but I know, in my own work, connecting my own dots to the story, not only was he right, it was necessary, and I can't imagine it any other way. This is a spiritual story. This is a story about men and women being broken down to their bare essence – to the part of them that is God. This is a man who's in Hell, who's not only saying, "help me," but "help these guys get out of here; I'm going to give you everything." And that's what's happening. That's from the Bible.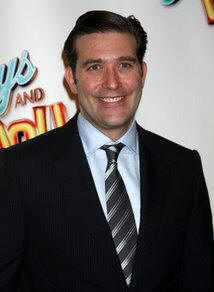 Runyon's stories were about down and dirty, grounded-in-reality characters. This play gives these characters an ambiguous humanity, which traditionally hadn't been seen with such characters. You don't always get that when you take the songs out of context, but when you put them back in context, you really appreciate the songs in a very different way.

We're saying the same thing. I'm even digging a little deeper in saying once you get to these guys... What makes gangsters and Huffington Post writers the same? We're all in the fucking sewer. And maybe we do have a guy who's guiding us, leading us and inspiring us to give up an enormous amount to get out of the sewer. There's a very basic human story churning on: people sink down, and then they get inspired again. It's human nature. This story reminds us that it's okay. That's what you're down here to do: you're going to sink down, and then... What's your reaction time? How long before you get out of the sewer? Once you're older than 40, are you doing something to help the other guys who are having trouble? That's what the play is about for me: save yourself, and grab two guys. Try. If they slip out of your hands, at least you tried.

That's why the gospel scene – "Sit Down, You're Rocking the Boat" – works so well.

By the time that scene comes, it's an orgasm. There's a reason why Sky leaves the room. Tituss Burgess is amazingly talented; that's a great vessel to send that song through. Now we're a church. We actually brought church to the Broadway stage. The reason people are reacting is because something has been released inside of them, and they're flying. The people who are open to something better, it's a great play for people to be experiencing at any point. But it's also like you said, especially now, because we're at that point in America where we're going to go through something tough, and once we do it we're going to be very happy we did it. And maybe we won't go back to the sewer again.

All Broadway show characters, especially musicals, are "ratcheted up." They're not a real people, they're mythological persons. To make that real on stage is tough.

The joy of it for me is, it's an opportunity to say, "Hey, I'm having this experience. Do you recognize this? Isn't this weird sometimes? Isn't this scary? Does this make you sad? Are you scared of this?" That's the joy I get. You can feel that coming off an audience. Usually in the first few rows you can see the people's faces. You can see them reacting or not reacting to certain moments. I don't use that to drive what it is I'm doing but when you have that moment of connection, it's not in the words. It's in the behavior of somebody realizing – you can feel them kind of with you. It feels like what we're doing right now: human beings talking, souls rubbing up against each other. It's positive.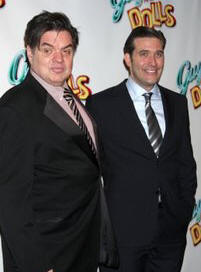 What is it that makes us who we are or where are we in the world? Sometimes when you get a chance to talk and think about it, you're really getting in touch with it. That's what that experience of theater is: you have an encapsulated human process at work in this sort of abbreviated but hyper reality.
My fear is, you buy a ticket and you go on a ride for something like that, and you have the Guys and Dolls experience, and from the very first note you're like, "Oh," and then you literally feel like you're on a ride. Hopefully, you're fortunate to have someone like Des McAnuff as your ringmaster, so you're in good hands. He's certainly known as an impresario, a man who's in control of traffic. He's in the middle of what's going to be a long career. I suspect as it goes it along people are going to recognize him as a genius. There are a lot of people who can pull levers and visualize and blurry the lines between film and stage and have you feel like you're moving through New York – that's all very exciting. What he did do is, he looked at this play, and Des's vision of the play is complete.

He has very strong personalities to work with in myself, Oliver Platt, or Lauren Graham. And they didn't agree on some things sometimes. I look at Oliver as Muhammad Ali. It's his first musical. He's fearless and he's staying in there. There are a lot of actors who, because it wasn't in their wheelhouse naturally, would've backed off, shrunk away, and ended up in the corner. Whereas Muhammad Ali is one of those rare people who just stands up and gets right back in and ends up winning the fight, knowing that they're probably going to die going into the center of the ring. You just get up and you go anyway. It's kinesthetic – the stuff I learn from Oliver. We're both fairly intelligent guys, and we can sit over coffee and we have a lot in common, we have friends in common. I've known Oliver off and on for close to fifteen years. Never worked with him, always been an admirer. My conversation with Oliver is purely physical. I've watched his adjustments and it's made me braver as an actor. Not because of what he's saying or doing specifically, because the characters are different and our wheelhouses are different. But just the fact that he was starting at point A and he's getting to point Z is rare. I know what he had to do to get there, I've watched it every day, and I know that the bravery he had to summon, and really do it, and is in the midst of doing it.

And when I say that 98% of the actors I've seen don't have the balls to do what he's doing, forget the talent. If your natural inclination is to talk softly, which is what he does, and to have to play [in a loud voice] one of these guys, and be on stage for three hours and be one of these guys in an ice skating rink where you're not accustomed to ice skating – and there are blades under you so if you trip you're going to get cut – Oliver needed to go through this process in order to come around to the performance. In a very real way, Oliver has had to stretch himself as an actor. It's an extraordinarily inspiring thing to see, and it's rare. A lot of actors like to talk about it because it's interesting interview meat, but I've been doing this for 25 years and I can count on two fingers the time I've actually seen people do and pull off what Oliver is doing. Everything he's doing complements every aspect of the production. He's the engine.

Did you and Oliver talk about Ron Howard? Both of you have that ground in common since he was directed by Howard in Frost/Nixon and you were directed by him in Cinderella Man.

Only in the sense that we were both pleasantly surprised when we met Ron Howard and were like, "Oh, he's just what Ron Howard would be like!" He's just a very nice, hard working, industrious guy.

So did you guys talk about Frost/Nixon at all? Did you get to see it?

I did see it. I thought it was very good. Oliver is always great. I'm always happy when Oliver's face pops up on screen. He has such a unique face. I had just watched the actual interviews before I saw the movie. I'm a YouTube junkie – they're fascinating. But no, Oliver and I hadn't talked much but Guys and Dolls the past month and a half.


It's an interesting mix: Graham is known for television; Platt, for film. But you and Kate Jennings Grant are the Broadway vets. You see what they're going through, because they have to rise to that challenge that you can understand. Lauren Graham was a surprise, finding out that she can sing and dance. That was a pretty impressive display. Were you surprised yourself?

No. First of all, I don't dance. When I did The Music Man, I called Susan Strohman a couple hours after she hired me and told her that I don't dance. "You didn't audition me as a dancer." She said, "I know." And I told her, "Well, I'm just telling you I don't stand up very fast, so I'm not kidding with you." And she just knew. She said, "Don't worry. Just come ready to work." And she worked me and I've never worked that hard. That's the thing: these people work hard, they work harder than most people. I don't know how much of a dancer Lauren was, but she started working out in Los Angeles before rehearsals even started. She's extremely dedicated. I never saw Gilmore Girls, so I don't think of her as a TV star, I just think of her as this girl Lauren. But when she walks out onstage and you hear all the Barbie dolls screaming, you realize, apparently she did a television show. My nieces are going to be so nervous around her. But I just see her as my friend Lauren who's doing this part. And she's incredible.

Do you want to do something where you're much more of a comic?

One of the reasons [Guys and Dolls] is a success is because Oliver and Lauren are funny, but those are funny parts. Kate Jennings Grant is hilarious, and that part has always been the one you forget while you're watching it. It's always been Bud Abbott in a dress. And she's hilarious. She's light, a knockout. She's extremely generous on stage, which is not always the case with actors. You can leave a stage with invisible bite marks that nobody in the audience is ever aware of; somebody is just tearing you apart on stage. She's not that person. I only met her for the first time at the audition. I get text messages from her every night just saying, "I feel so lucky."


It's interesting, that you never thought of yourself as a dancer yet you did The Music Man and was nominated for a Tony Award.

That was a beautiful production. Yeah, before that, I didn't dance. Before Cinderella Man, I didn't box. But I boxed. It's possible. You go and you work hard at things.

So you had to train for that?

Six months.

So you really had to be able to be in that ring then?

Yeah.

So do you have to be really almost boxing each other?

Well, there were some loose hits, they were genuine mistakes. [Russell Crowe] is a fantastic actor, very responsible. It's dancing. Fred Astaire and Ginger Rogers could've knocked each other out. We weren't doing anything different than Fred Astaire and Ginger Rogers were doing, just faster and with our arms. But it was dancing, and it was highly choreographed.

So did you always know you were going to be an actor?

Yeah, but I don't feel like one. Just at the point I got this play, I happened to be going through a period when I thought: this is silly, getting up and leaping around in Ferngully like this at the age of 44. And I thought: what am I doing? What is this world? A lot of actors I had worked with seemed mentally unbalanced. It's only a matter of time before I go nuts myself. Around that time, and for a few years now, I never felt quite like what I figured an actor should feel like. I don't know that any actor does. I think feeling displaced or slightly removed is what an artist feels like. Naturally I've always felt more like a writer myself, and I've always written. I have people who are writers who've been promoting that side of me. I also draw, too. Those things I feel most comfortable in. I don't know why, but as soon as I started doing this, I came around to thinking that the art that you actually do practice, maybe you don't feel entirely uncomfortable. There's a wonderful book by David Mamet called True or False. I'll boil it down for you: most of the mythos that surrounds acting – this implied importance, usually generated by actors themselves – is bullshit. Not only are you not curing cancer, but there's an argument that in certain circumstances you're probably causing it! I don't know exactly what acting is. I don't think it's not a noble profession. There are people who are good at it, even geniuses at it. I look at what some people do and I don't know how they can do that, how they can access that fury of emotion. But I'm not entirely sure what it is. I also don't think it's that important, quite frankly. It's as important as being served a delicious meal and then putting too much emphasis on the silverware. Guys and Dolls is the meal and we're the silverware, essentially.

Being able to do something like this and also being able to have an experience that people can have and share with their friends – that may be the cream that makes the coffee worthwhile.

I suppose so. It does feel like cream though. In this experience, for example – reading this article, which I hope people do – it's not my experience with this that seems interesting to me or any of the other people on stage romping around and having a great time. The real fascinating thing to me is the guy I want to talk to, Abe Burrows – these guys pounded this piece of genius into shape 50 or 60 years ago. I read the book, and realized that this play didn't fall out of the sky. These people actually didn't know whether they had a bomb or not. If you look at the construction of this play it's almost different from any other musical. It's scene, scene, scene, clump of song, clump of song, scene, scene, clump of songs. If you look at it on paper, it doesn't work.

With the economy, will they be able to get the audiences into theaters?

I know it's been doing really well. I know the word of mouth has been very positive. But I don't know the future better than anybody else does. I'm having a hell of a time. I don't read reviews. Not that I don't have respect for reviewers, because I read reviews for other pieces that I want to learn about, and there's some very good reviewers. Some are mean, but that doesn't mean that they don't know their way around the review and you can't learn something from them. But in terms of being the artist, I feel it's irresponsible to go by the opinion of someone who's observed your one responsibility. It gets difficult around preview time, and not everybody can do it. You listen to your director all the way through, he is your guide. There will be times when you don't trust him, and you may or may not come around, but he is your guide and you don't listen to any other voices.

I haven't been to a musical in a long time where the people stand up and give you an ovation at the end. That's pretty impressive.

Very gratifying.

Do you have a list of which directors or actors you'd like to work with?

When I had my meeting with Ron Howard, I was thinking, yeah, I'd love to work with Ron Howard. But I don't sit there thinking, "Boy, I'd love to work with Ron Howard one day." You know who I'd love to work with? The Marx Brothers. It's probably not going to happen! I love Fred Willard. I love Fred for the same reason I love W.C. Fields, and Groucho [Marx]. Fred Willard discovered something that nobody has ever done. It is a completely unique comic voice. You can say, 'Well, no, he's the dumb guy who thinks his IQ is 17 points higher than it actually is, and there are people who have done that.' But they haven't done that with his rhythm, and not with what he does. You can tell someone is great when they keep popping up in stuff that's beneath them. Most of the material can't rise to his talent, which is why you realize that people like the Marx Brothers, or W.C. Fields, or Buster Keaton – these guys from yesterday created material to suit this thing they invented. If Don Knotts' career had happened 30 years previously, I think he would have been as big as any of them. He was doing something that was completely unique. But because he wasn't a writer, he was kind of a slave, like Stan Laurel. That's another one I want to work with, Stan Laurel! I want to have him explain to me how to solve the problem that I always have of picking something off the desk. I imagine it all the time. When you have a comic problem, you think, what would W.C. Fields do? Well, whatever it is he would do, he wouldn't be doing this. He'd probably get thirteen laughs out of this thing I'm trying to make happen.

Are you going to continue "Bathing with Bierko," your strangely comical series of web interviews?

There are a few outlets that want me to. That was shot back in Los Angeles, and I would want to use that bathtub because it was perfect. That's the set, that's The Tonight Show set. That's Carrie Fisher's bathtub, which used to be Bette Davis' bathtub. It's a little too small for me, so it's actually perfect. People want to do it, but it wouldn't happen for another year or so.

Who is on your list to interview in the bathtub? I won't steal any bathtub contenders.

It doesn't matter, I won't tell you anyway. It's usually somebody who won't do something like that who's on the list. That's why it takes time to put the list together. The people who wouldn't normally do something like that won't do that. Every once in awhile, you go up to somebody and they surprise you – like John Malkovich, who goes, "of course, why wouldn't I?"

Did you interview Carrie Fisher in her bathtub?

No. We're trying to figure out how to do women, it's a little trickier. No bubbles, though. That's like underwear with hearts on it, it can't be funny. It's the awkwardness that people respond to. And it's less awkward with a woman. It's mostly awkward with two straight men. That's one of the elements, that's what we discovered makes it key. And to me it's not even funny; it's just awkward, which is funny. But you've got to get to awkward before funny.


What was your experience like with Boston Legal?

My experience was that they create the illusion of the greatest, most fun place to work, but it was hard work. It was very interesting for me, because it's not a world I usually go to. I don't watch those shows about doctors and lawyers. It was such a compliment that [creator David Kelley] asked me to do this, that I did it. It was great, but it wasn't quite my sensibility. But I enjoyed doing it.

They took the lawyer show and turned it on its head.

Television shows, especially hour-longs, are hard, tiring work. Those people are very tired and very rich. But they're working really hard, and to create the illusion of having the time of your life like that, you really got to give it up to the people who do it.

A lot of stage actors seem more exciting than film actors because of their range. How did you decide on your choices?

I really don't have a strategy. At the beginning of my career I was sort of frustrated because I wasn't sure how to pinpoint myself yet. But in terms of having a plan, I'm not constructed that way. I'm blessed with a faulty memory, which is not a good thing to have if you're going to start constructing a plan, because you need to have "this" experience in order to inform "[that]" experience. I really don't think like that.

Any decision that's made about my career is ultimately my decision, and it's helped me not to plan too much. I've never been the guy thinking, "I want to do a play this year. I want to do this kind of movie or this kind of character." I don't have that sort of control. It's been just seeing what comes along and taking advantage of what excites me. It's led to what some people might consider bad decisions, and other times, it's been great decisions. Whatever it has, it's led me here. Without getting too Buddhist, I just naturally have been in the moment in the entire time. I'm very happy with my life and with my career. There's some alchemy between being present on stage and fulfilling the requirements of a scene, and also remembering that there's a funnel effect – you have to send it out through a megaphone so that people can experience it. I don't know how that happens. I know that part of it is purely kinesthetic. It's not something you can articulate. That's why I get suspicious of acting school, to a point. Personally, I don't know what I did or didn't get from acting school. A lot of whatever it is that I have is experiential, getting up on stage and getting a sense. I used to have a singing teacher who said, "You want to find the place with your voice where the room starts ringing." That's an impossible thing to relate to unless you've actually been in a room and you realize, "Oh, if I keep my tone here, it feels like the room is vibrating in a weird way." It's the same way, perhaps on an emotional level, that is purely experiential. It's like explaining to somebody how to run fast.
Email us Let us know what you think.
Features Return to the features page.
Photo Credits:
#1 © 2009 Brad Balfour. All rights reserved.
#2 © 2009. Courtesy of Ambassador Theater Group. All rights reserved.
#3 © 2009. Courtesy of Ambassador Theater Group. All rights reserved.
#4 © 2009 Roger Wong. All rights reserved.
#5 © 2009 Roger Wong. All rights reserved.
#6 © 2009 Roger Wong. All rights reserved.
#7 © 2005. Courtesy of Universal Pictures. All rights reserved.
#8 © 2006. Courtesy of 20th Century Fox Television, All rights reserved.
Copyright ©2009 PopEntertainment.com. All rights reserved. Posted: April 18, 2009.


Copyright ©2009 PopEntertainment.com. All rights reserved. Posted: April 18, 2009.