PopEntertainment.com > Feature Interviews - Actresses > Feature Interviews A to E > Jessica Biel
JESSICA BIEL
KICKS VAMPIRE BUTT IN BLADE: TRINITY

BY BRAD BALFOUR
Copyright ©2004 PopEntertainment.com. All rights reserved.
After seeing her transformed from a sweet yet sexy teenager into a sanitized rebel on the moralistic WB how 7th Heaven, it's wasn't so hard to imagine a buff Jessica Biel as a hot vampire killer in Blade: Trinity. The third film in the series, Biel becomes Abigail Whistler, a hardnosed slayer and cohort/protégé to Wesley Snipes' hardcore kung-fu-ing vampire basher. Previously she's made tentative forays into film and on sexy magazine covers but now the twenty-something actress is finally getting herself established as a screen talent — albeit with an edge.

You look really fit. How has training for Blade changed your life?

It's changed my workout routine, the way I eat, and the way I live my life. I really thought I was a healthy eater before the movie, but working with someone who knows what they are doing, completely changed that perspective. I learned about nutrition, and it motivated me to get into the gym and exercise more than I ever did before. I really liked the way my body looked when we shot this, but it's obviously not that way anymore.

Are you hoping this becomes another franchise?

That's the idea. If the fans are excited about these two new characters, then it might happen.

You kill off a super-vampire here. Who would you fight?

There is a scene in Blade: Trinity where we fight a new monster. If we do a spin-off, I don't know if we will fight those monsters. I'm half and half about that monster.

Since this series is based on a comic book, did you read any before filming took place? There was an issue of Tomb of Dracula in the film.

I never have been a comic book fan. My character is brand new so I didn't have to understand the character from a comic and then bring her to life.

Wesley Snipes has a method acting approach, and stayed in character both on and
off camera during the production. Was that intimidating?

It was weird. He's very intimidating anyway because he doesn't talk to you. When someone doesn't talk it can get very awkward, but I got used to it. I don't know if I said more than 10 words to the guy.

Was it tough to keep a straight face with such a joker as Ryan Reynolds [Van Wilder] improvising all the time?

I'm boring compared to him. It was always a challenge to keep a straight face. He would always come up with new ways to call Parker [Posey-the vampire leader] something negative. He would get grosser and more disgusting, so it was a lot of fun.

Did you try and emulate Blade's teacher Whistler [Kris Kristofferson] because your character is his daughter?

With the wardrobe, we wanted to emulate him a bit to give her an old western feel. I still have the belt. [stands up and shows her belt and tummy] This is a cool western style belt that our costume designer, Laura Jean Shannon, and I thought would look good. I also have a seven-shooter pistol that shoots seven bullets instead of six.

You're just screwed if there is an eighth vampire.

[Laughs] Yeah, but then I would just pull out my bow.

When you pulled up your belt, you showed your bird tattoo.

It's a dove.

Do you have others?

I don't, but I got this when I was at college at Tufts. I just had this vision of the dove. Maybe it's because I'm from Boulder [Colorado] and we're hippies. I just wanted to get a tattoo when I turned 18 and it just like "Screw it." I really like it but it doesn't have any more meaning aside from the fact that I like doves and I'm from a hippie area.

When they show it in Blade it's a contrast to your character.

That's why David [Goyer, the director] wanted to show it next to my gun.


Your character goes into battle with her iPod playing techno music. What do you listen to?

In the movie I wasn't listening to anything but I'm not a trance/house music fan like my character was. In the gym I listen to a lot of rap like 50 Cent, Christina Aguilera and classic rock.

Apart from horror movies-you did Texas Chainsaw Massacre too-what other genres will you explore?

I would love to do a movie musical or a comedy. I want to do everything I haven't done. I don't know what's next because every time I try to figure out what to do next, I do the complete opposite. I want to do something totally different from an action adventure/horror movie. I just did Stealth, which is a futuristic action movie, where I play a fighter pilot. I also did Elizabethtown [with Orlando Bloom; directed by Cameron Crowe]. Now I'm getting away from genre films, but I'd like to come back.

What's Stealth about?

It's like Top Gun. A drone plane goes AWOL and they have to get it down. I think there is a plane like that being built now.

Have you sufficiently moved away from your 7th Heaven image enough to return to TV someday?

I'm really enjoying doing movies. I like being someone else for three months. That's what I wanted to do for so long. People can't imagine you as another character when you're doing television. I love TV and had a great time. I don't know if I would come back right now because I like traveling around doing movies. When people see you every week in their home, they think they know you and producers don't think you can do anything else. I wanted to show that I could be more. I can be a vampire slayer and I can be a damsel in distress.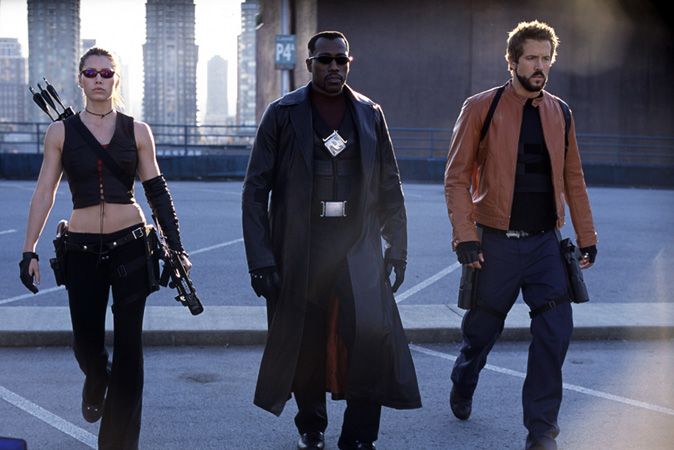 Is there a sequel in mind for Texas Chainsaw Massacre?

Not a sequel, but a prequel but not with the same characters. They might do Leatherface as a little boy, which would be bizarre.

Did people bothering you while attending Tufts University?

People at Tufts were really cool. Before I arrived, there was a rumor that I was coming. I got some stares and people pointing. But I think that I was intimidated because I came from working with adults and now there were all these young people. I wasn't being bothered, but I was left alone. Then I met some people and I got a group of friends. Guys didn't really talk to me because I don't think they knew how to approach me.

Have you thought about returning to school to get your degree?

I left before picking a major so I was taking classes that were just interesting. I would love to go back. It's important for me to finish and I don't know why. If I don't do it then I will regret it. My younger brother is in college and he will graduate before me. That pisses me off.

Was it different working with a seasoned director like Cameron Crowe than a first time director like David Goyer?

I was pretty intimidated to walk on Cameron's set because I'm such a fan of his. I felt pressure even though I was only there for a week. Everyone has a different style but creatively I like Cameron best. But working with David Goyer was great because I totally trusted him.

How were your scenes with Orlando Bloom in Elizabethtown?

They were so much fun. Orlando is great. He seems like a little kid to me because he's got this wonder and innocence about him. It's really [writer/director] Cameron Crowe that made the whole experience so wonderful. He really works you to the bone, but you feel so excited and energized when you're doing it. I was only on the movie a short time so I didn't want to take up too much of his time.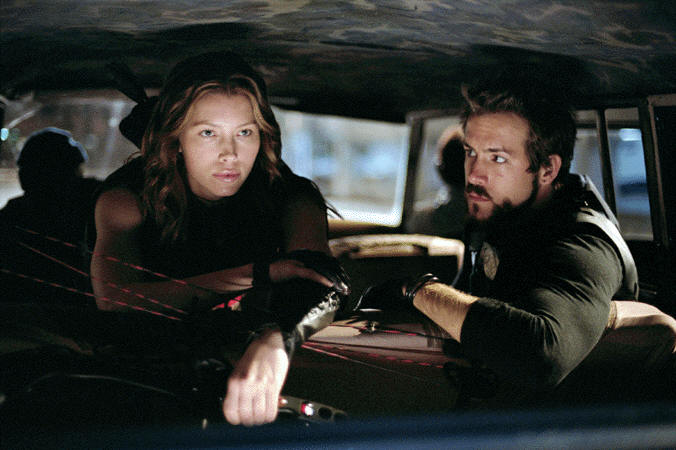 What directors would you like to work with?

I don't really know director's names very well. I loved the movie Secretary, but do I know who the director is? No.

You still have lots of fans from doing Rules Of Attraction?

It was kind of disappointing because the movie didn't get out to many people. I do meet people that are like "Oh my god, that movie is so great." I run into a hardcore fan very rarely. I don't know what happened, it just didn't get publicized enough and I don't know why. It's a fun and interesting movie. I run into a lot of people who say "I don't get it" and I don't want to explain it.

Do you understand it?

No! [Laughs] It's a difficult movie to explain.

A few years ago in Gear Magazine, you said you would love to kick your 7th Heaven character's ass. Now would you have your character in Blade do it?

I have all these new skills so I could whup on her; she wouldn't last very long.
Email us Let us know what you think.
Features Return to the features page
Copyright ©2004 PopEntertainment.com. All rights reserved.

Photo Credits:
#1 © 2004 Diyah Pera. Courtesy of New Line Pictures. All rights reserved.
#2 © 2004 Diyah Pera. Courtesy of New Line Pictures. All rights reserved.
#3 © 2004 Diyah Pera. Courtesy of New Line Pictures. All rights reserved.
#4 © 2004 Diyah Pera. Courtesy of New Line Pictures. All rights reserved.
#5 © 2004 Diyah Pera. Courtesy of New Line Pictures. All rights reserved.