Copyright ©2010 PopEntertainment.com. All rights reserved.
Posted: November 11, 2010.
Sounds like a sure-fire snoozefest, doesn't it: a Broadway musical about the life and times of President Andrew Jackson, in office from 1829 to 1837. Not exactly the makings of a crowd pleaser.
But take a smart, funny book, some amazing songs that literally rock da house, and a sexy-pants actor named Benjamin Walker, and now you really have something. And so, at last, does Broadway, with the hit musical Bloody Bloody Andrew Jackson.


In fact, this sizzling show, which started downtown and slowly but surely worked its way up to the big league, is now the hottest ticket in New York. And that, in this economy, is not just whistling Dixie.
Walker, born and raised in Georgia and educated at Juilliard, is the new face – and voice and body – to be reckoned with on The Great White Way. His performance as our hip-swiveling seventh president is garnering double-takes, rave reviews, Tony talk and a growing legion of fans. He has been with the show since its obscure little birth in LA in 2007, and now his loyalty and multi-faceted talent are paying off big time.
In addition, his New York comedy show, Find the Funny, in which he performs stand-up along with some other stand-up-and-comers, is also becoming a major draw. In just a few short years, the little boy from Georgia has become "the man" in Manhattan.
Here, he and I talk about all that's good:
How does it feel to move the show uptown?
It's an honor to be accepted into the Broadway community. The creative team has done a wonderful job of maintaining the intimacy that we had downtown at the Jacobs [theater].
The show has gone through quite an evolution since its inception, and you've been loyal to the project from the very beginning. Are there any further changes or alterations to the show now that it's on Broadway?
Not particularly. As a cast we are enjoying the expanse of having such large audiences. It's easier to tell the story of populism when there is a roaring audience of 1,100.
Does the critical praise for you and the show surprise you at all?
We've been the underdogs for so long that we certainly appreciate any support we can get.
Many people are saying that even though the story is set in early American history, the show's themes are more relevant now than ever before. Would you agree?
It is chilling to track through Jackson's life and see the parallels. We have to examine the past in order to refrain from making the same mistakes.
What type of research (if at all) did you have to do to prepare for the role of Andrew Jackson?
I read a few wonderful books: American Lion by John Meacham and The Life of Andrew Jackson by Robert Remini, to name a couple.
While growing up, who were your musical influences?
My mother is a musician, a piano player, so I grew up in a very musical household, where we learned to appreciate all forms of music.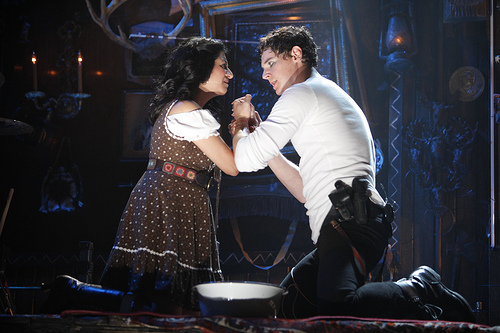 What do you like to do when you are not performing?
This show is so physically taxing that in my free time, I rest.
You've been in New York City at least since your Juilliard days. How does a Southern boy like you enjoy living in New York?
I love it. I have to say, the longer I live here, the more I consider it home.
You are involved with a comedy project called Find the Funny. How is that show, and stand-up comedy, a passion for you?
I started Find the Funny in college, as a way to perform and give other new comics stage time, and it has grown into a wonderful community of comics, writers, and performers. It is that community that inspires me, that group of people continuing to learn and perfect their craft. Stand-up is a passion for me because it is theater at its most basic: one person stands up in front of the group and tells a story. The more isolated we become as a generation, the more we need that type of interaction.
Do you have any plans or projects we can know about in the coming year or so?
Right now I'm focusing on Jackson, and telling his story to the best of my ability, eight shows a week.
Features Return to the features page