"Once upon a time it was for real. Nothing mattered then, we were together."
Those are the first lines of "From Now On," the first song that Basia Trzetrzelewska ever wrote with her long-time musical collaborator Peter White nearly thirty years ago. And somehow, decades after that song first appeared on Basia's solo debut Time and Tide, those bittersweetly nostalgic lyrics are all the more trenchant.
Once upon a time, Basia appeared to have it all. From the mid-80s through the mid-90s, she sold millions of albums, had hit singles and toured all over the world. The Polish-born songstress was even popular enough to do a brief Broadway run of concerts – which was captured on her first live album Basia On Broadway.
Then she just walked away from it all.
After her third solo album, the critically acclaimed The Sweetest Illusion, was released to relatively disappointing sales, Basia did not make another solo album for fifteen years. (It is hard to call an album that sold over 500,000 copies disappointing, but it was under the over-million sales of her first two platters and thus deemed a bit of a failure by her record label.)
However, just in the last few years Basia has returned to active recording and touring. In 2009, she released her comeback solo album It's That Girl Again. Now she is releasing a second live album with three new studio recordings, From Newport to London: Greatest Hits Live... and More.
There were many reasons behind her retreat from the limelight. Partially it had to do with the death of her mother and some friends. Partially it was the insane pressure she felt from the record label to create hits. She was an artist; her mind did not necessarily work that way. Then there was her romantic breakup with collaborator White.
Still, despite the fact they did not work as a couple, there was never any doubt that they clicked musically. Basia and White had met in the early 80s while both were members of the jazzy British New Wave combo Matt Bianco, which had hit singles with "Whose Side Are You On?" and the Basia-led "Half a Minute."
"The [personal] relationship not necessarily is always that good, because you know, we used to be together and our relationship didn't survive – the private relationship," Basia recalled to me recently backstage at the Sellersville Theater outside of Philadelphia. "But musically there is something strong. It's much stronger than just a boyfriend-girlfriend thing. Always, from the very beginning, we had the same record collection, the same taste in music. Understanding without words about what's good, what's bad, what we like, what we don't like. Because of that, every time when he comes up with a melody or and he shows it to me, often I'm moved to tears, I swear, which is so unusual…. There is something really special about how we respond to each other's ideas. I've seen him equally moved by something I've done, which means that what we have is special and we shouldn't finish it because of some egotistic reasons. I think it's worth preserving. It's built enough over all the years, in spite of conquering all the private problems. It's a good musical relationship."
That mutual love was for some very specific types of music. Growing up in her native Poland, Basia learned to love Latin American jazz such as sambas and bossa nova, with a touch of swing thrown in for good measure. You wouldn't expect that these styles would be readily available in the final years of Poland's communist regime, but Basia explains that the music was everywhere.
"We had very good radio in Poland. It's one of those radios that is a rarity now – which means that the DJs really played whatever they loved, rather than what programming made them. Because of that, there was a lot of jazz on the radio. Jazz was very, it's always been big in Poland. It still is. [Antonio Carlos] Jobim was particularly very popular, and Astrud Gilberto. In high school, I heard it for the first time, some Jobim songs, and completely went mad about them. I knew that if I ever sang, I would like to sing something like this. Then I had no opportunity to do that, but when I came to England and I met Danny and started to play with Matt Bianco, I couldn't believe this was actually the music that they did. I was very happy to join in," Basia laughs.
However, after doing a single album with Matt Bianco, Basia and White decided to leave the band and work on a solo album for the singer. Adding to the pressure was the fact that Basia had never written songs before – and she didn't speak English that incredibly well.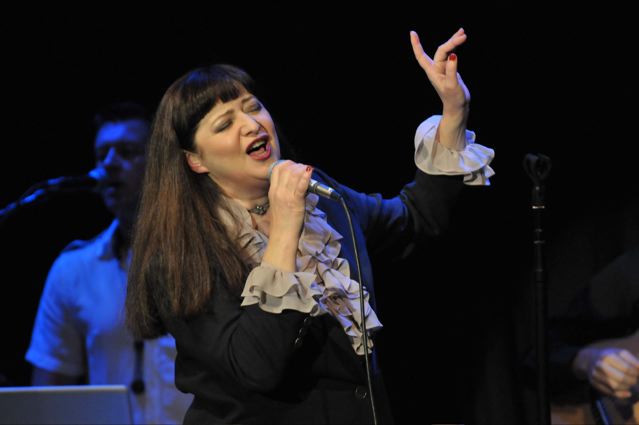 "I never considered myself a composer," Basia admits. "I grew up worshipping Stevie Wonder and people like that. I couldn't imagine myself doing something similar. When I came to England and met Danny, he kind of forced me to do that. He said, 'You're musical. You can write a melody.' I played piano as a child, so I had an understanding of harmony and stuff. Although I spoke English only for three years at that time, he made me write words. I'm actually grateful to him for making me, because that got me interested in literature. I started to read poetry and I started paying attention to other people's lyrics. I developed the knowledge of English. Otherwise, I'd probably only be doing backing vocals or something. He forced me to write. I do owe him for that. He encouraged me and believed in me enough to trust me with a song, a second, third and suddenly there was a whole album that came out as Time and Tide. When I left Matt Bianco, I didn't write anything on the Matt Bianco album and I didn't think I would ever, but because Danny encouraged me, we came up with this whole album of songs for the first album, which seems to be people still want to hear."
It was a slow-burn process. The Time and Tide album and the gorgeous title single both slowly climbed the charts in late 1987, but eventually gained solid footing in the American charts the next year. "Time and Tide" became a huge radio hit – also crossing over with an arresting music video to both VH1 and MTV. The follow-up singles from the album, the lovely and hopeful "New Day for You" and the swaying midtempo "Promises" also garnered significant airplay. The album eventually went platinum.
"We were extremely lucky that here in America. Radio took us to heart. There was a particular type of radio stations where we fit in. Now they are disappearing, but at that time, [the success] was just thanks to them. They started to play it. We didn't have much intervention even from the record companies. They didn't believe in us so much. They kind of thought, 'Oh, that's a little jazzy album. If we sell 10,000 that will be great.'" Basia laughs at the memory. "That was the ambition. So it was wonderful that the radio was very responsive and liked us. We owe them everything, really."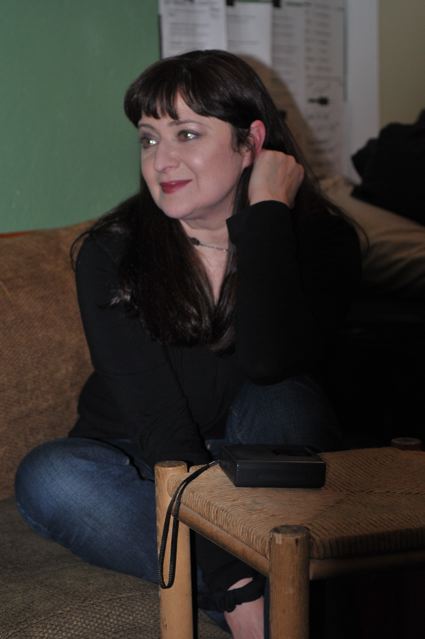 The Time and Tide album also allowed Basia to pay tribute to one of her strongest influences. The popular album track "Astrud" was about Brazilian singer Astrud Gilberto, who is best remembered for her impossibly cool vocal on the 60s hit single "The Girl from Ipanema." In fact, Basia's song prominently name-checked many of Gilberto's song titles in its lyrics. Eventually, it led to Basia meeting her idol.
Basia still laughs at the memory. "She performed in London and somebody at my record company said, 'Do you want to meet her?' So I went back stage and shyly met her. She knew about the song. We took a picture together. She said, 'Thank you for the lovely song.'"
The 1990 follow-up album London Warsaw New York became an even bigger hit, spawning the smash hit single "Cruising for Bruising" as well as the old-school girl group samba "Baby You're Mine" and a popular cover of Aretha Franklin's hit song "Until You Come Back To Me (That's What I'm Gonna Do)." Basia is very sparing with her covers, also including Jobim's "Waters of March" and Gilberto's "Summer Samba (So Nice)."
"[I do] very few covers, only the ones that I really love," Basia admits.
The Sweetest Illusion came out in 1994 to strong acclaim. The single "Drunk on Love" even made it up the dance charts – new territory for the jazzy singer. However, the album didn't quite do as well as her previous platters, and the sensitive songwriter was feeling serious pressure from the record label to replicate her earlier success. She went on a long worldwide tour – releasing the concert disk Basia on Broadway.
And then she had had it with music. Between some personal tragedies and the tremendous pressure of recording, Basia pulled away from the work that she loved. With the exception of a greatest hits album (Clear Horizon: The Best of Basia) which included a few previously unreleased songs and occasional guest appearances on other artist's albums (including Peter White and Japanese violinist Taro Hasake), Basia completely withdrew from the music world.
"I thought, that's it, I'm finished. I don't want to do anymore. I didn't feel like singing."
This sabbatical ended up lasting a decade. The music world had changed and Basia did not feel the urge to follow. Even in the late 1990s, when the swing revival made the idea of her return seem a natural idea, Basia sat in the background. Still, she acknowledges she always loved swing music, so she was aware of the trend.
"I always loved swing. I sometimes think maybe we didn't do enough. I don't know if you know a few tracks Aretha Franklin recorded that I really liked were very swingy. They were my absolute favorite. I always wanted to do something like this. It would be neat. I would love to record with a big band, you know? It's something that is still in the back of my head. I really love that kind of music. She's a great pianist. She arranges and stuff. She was an inspiration. Where I record, in my home, I've got this desk. There is a computer. There's my mixing desk. And in front of me there is a picture of Aretha Franklin with a fag [British slang for a cigarette]." Basia laughs. "I just look at this, she looks so tough, the piano with the cigarette. It's amazing. She's my absolute idol."
Not surprisingly, it was ex-boyfriend and musical collaborator Danny White who got Basia to take some baby steps back into music.
"He started to work – he was frustrated for a few years, he was just going crazy that I wasn't doing anything – and he finally got together from Mark Reilly from the original Matt Bianco lineup," Basia explains. "They started to write together. I was happy. I said good, good, good. I felt relieved that I don't have this pressure anymore. They started to work together, song after song after song."
Soon they were well on the way for a Matt Bianco reunion disk, which would come out in 2004 as Matt's Mood. However, White felt that they couldn't do the reunion without Basia playing a part.
"Suddenly they came to me and they said, 'Would you record this with us?' I just started to moan. I was like, no, no, no. But then I listened to it and I liked it. They played me the backing track to 'Ordinary Day' and I really liked it. So, I said, okay, I'll try to come up with something. I wrote one lyric. Then I made up a melody. Then I came up with some Polish lyric for 'Wrong Side of the Street.' They slowly drew me into it. Then we went on tour. With the girls, we went on tour with Matt Bianco to Japan and America and I just met all my old fans. They just said, 'Where is your new record?' 'New record! We want a new record!' That was [amazing], I felt somebody wants to hear more. So, when I came back, straight away Danny and I went to it."
The solo songs which Basia and White worked on ended up being her 2009 comeback album It's That Girl Again – Basia's return to the record shops (or iTunes) for the first time in fifteen years. Once she had the bug again, she was amazed that she had wanted to be away for so long.
"I have never had such ease of writing as this album," Basia says, "maybe because this was really from love. All the previous stuff, the record company tells you, 'You have to come up with a new record.' I felt pressured. Finally after this break and after the Matt Bianco album, I felt like this time I actually want to do it. We had no record deal, so there was no pressure. It was much easier than before. Much easier. You find new confidence. You don't worry about silliness anymore. You just try to do the truth, be honest and sing your heart out, basically."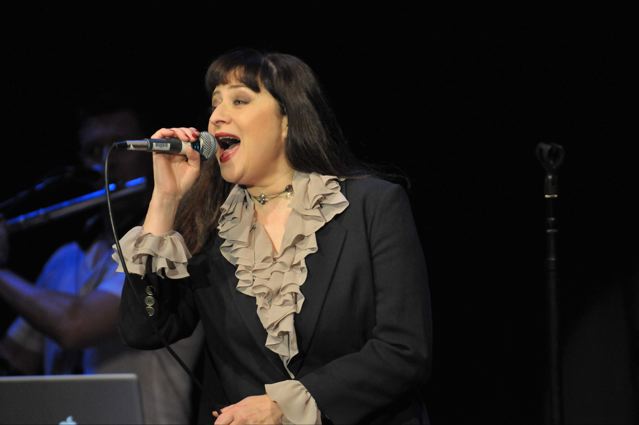 And it really is the truth, Basia insists, mostly a variation of her world illustrated in song. Oh, of course, she is a writer, so there is some fiction…
"I think 90% is based on real life," Basia explains. "Just a few songs were kind of made up stories. I just imagined that this could maybe happen. For example, 'Blame it On the Sun' – this song is about women getting restless during the summer, wanting to fly off. I remember when I was a child, still in school. In the samba, you did get a little bit fanciful in your head. You thought about doing naughty things and stuff.
"I'll tell you something really sad, this summer, six couples of my friends split up. This always happens in the summer. It seems like the weather produces craziness," she laughs. "Some of them recovered. Most of them didn't. That [song] was made up. It never happened to me. I never wanted to leave. I'm very loyal. I don't leave people easily.
"When I think about 'Newport to London,' the story of falling in love with a stranger on the train, it was only inspired by a ride on the train. Actually it was last year, we were on tour and we were going from New York to Boston on the train. I was listening to the backing track over and over, trying to make up melody and words. I just looked at some nice-looking person and I just go, oh, how about obsession? That kind of thing – seeing somebody in the day. So I made it up, also."
However, much of the time, the song is inspired by the immediate emotional connection she described earlier with the music of Danny White – the feeling where she can hear just a snippet and become emotional.
"That happened with that song 'From Newport to London,'" Basia says. "There was a song on the previous album called 'There's a Tear' which when I heard it the first time, I just sobbed. And there was no melody. He always plays me the ideas, backing tracks and stuff. Same with 'It's That Girl Again.' Again, he played me some theme on the piano, maybe ten years ago. I could not touch it, because anytime I tried to make up some melody for it or words, everything seemed to feel completely not worthy of this beautiful background. So I was some moved by it that sometimes I told him, 'Don't play it for me, because I'll be crying.' Seriously."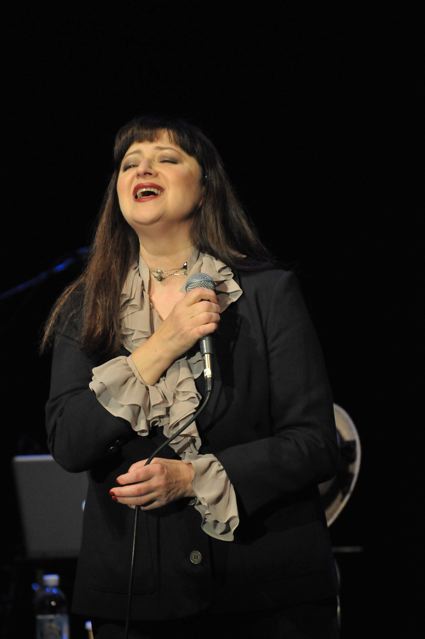 The From Newport to London album is Basia's second live album – and considering that she has only released one studio album since the first, some might think that is a little excessive. However, to Basia, it just shows a snapshot of where she has gone from then to now. Also, she admits, despite the fact that she knows many people who love Basia on Broadway, with hindsight it is a little disappointing to her.
"For me, [the new album] is [an improvement]," Basia says. "Only because I prefer the way I sing it now. I don't especially enjoy listening to the previous album. But some people love it! I've spoken to people who really like it. We had a bigger band. I had one more singer. I had a full brass section. I had percussionists and everything. It was wonderful, but I don't like listening to it, because I seem to shout from beginning to the end. There is no subtlety or something. So, I prefer this band. It was a smaller band, but I think it's much more controlled vocally. I'm just happy with it."
Another revamp does not quite make Basia quite as happy, though. In the three new studio songs, she does an acoustic version of the song "There's a Tear" from the It's That Girl Again album. However, she admits that the idea was not one that totally sat well with her.
"To tell you the truth, it's not my idea. What happened was we were on tour last year and we were playing 'There's a Tear,' because I love playing that song. Danny caught [guitarist] Giorgio [Serci] playing those chords on guitar and he said, 'Oh, you know, it would be so nice to do that just with a guitar.' He came back to England and Giorgio recorded the backing track just with guitar. I added a little bit of backing vocals.
"It was nice, but I'll tell you what: I love drama in a song. For me a song has to grow. It starts sort of quietly and goes to some kind of epic ending. This is for me kind of just static. That's why, although it is quite moving and some people say that it's very nice, okay, but for me it's hardly an improvement." Basia laughs hard. "So, I was saying, 'Let's not put it on.' And Danny said, 'Oh, I love it!' So we left it. I have to compromise sometimes."
However, she is quite pleased with the two other new studio tracks, the title song and "The Wandering." She particularly enjoyed being able to record the song with a fellow Polish singer, Mietek Szcześniak, who is a huge star in her homeland.
"It's high time for me to actually involve some Poles in my work, so it was good that we recorded this album in Poland. The guy is one of the best Polish singers. Maybe like the last fifteen years we tried to do something together and we kept putting it off. Well, I was putting it off more than him," Basia laughs. "He actually was quite keen to do this."
The experience turned out so well that Basia is returning the favor and doing a duet on his new disk, too. Together they have recorded a cover of Vanessa Williams' 1990 chart-topper "Save the Best for Last." At this point, Basia is not sure whether it will get a US release, but she is hopeful.
"It's his first English album and it's produced by an American girl, Wendy Waldman. She is one of the writers of 'Save the Best for Last.' They asked me to do that as a duet with him on this album. I tell you, I was a little bit scared to do this, because for me it's an iconic song and you shouldn't really touch it. I think they are just finishing the artwork, because they asked us just a few days ago for credits, how I want this to be written. I'm going to hear the mix. I'm nervous about it. The song is one of the most emotional songs. Beautiful! So when she approached me with this whole thing, I was very scared. But finally, I did it. I sent her four alternative vocals. I said choose whatever you want, so I don't know what the outcome will be. We just exchanged vocals and that's it."
In the meantime, Basia is glad to be back on the road again, singing for her fans. That is what it is all about for her.
"If you have a really good band, it's fun. A nice group of people that you get on with, good friends. That's one thing. And, I don't know, maybe it surprises me that people keep coming to see us, you know? It seems like still there is demand. So, as long as there is, we'll be covering it."
After all, the music industry has changed so much since her heyday, with the labels failing, less radio, downloading, piracy and everything. It can be difficult for an artist to get their songs heard. Therefore, Basia is happy and very grateful that she has a certain amount of goodwill out there with audiences.
"To get the music out there is no problem, but to make a living out of it is very difficult nowadays. I'm only glad I'm not starting now because it's really hard," Basia laughs. "Really hard. Live music is the only thing that you can still see that somebody is coming and buying something. But records: Who is buying records anymore? Everybody seems to know it, and have it, but very few people are buying records. Youngsters, especially. In my family, nobody buys records anymore. And it's not always, unfortunately, bought through iTunes, you know what I mean? So, I probably will put them in prison now by admitting it. But it's true, you know? It's very, very difficult. We have very little input from the record company now. We have to do everything ourselves. Keep the website going and keep in touch with people and just tour and tour and tour. Contact with fans is the most important thing."
CHECK OUT BASIA'S NEW SONG "FROM NEWPORT TO LONDON"
Email us Let us know what you think.