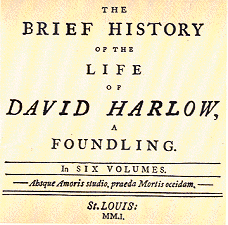 David Harlow-A Brief History of David Harlow (Bloodred)
It's kind of ironic that I listened to David Harlow's debut disk the same day that I saw an ad in MOJO about an European comeback tour by Dean Friedman. Friedman was a singer/songwriter who released a few albums in the 70s and the 80s. He had one big hit in the United States in 1977 with the hysterical story song "Ariel" about a pop musician having an affair with a Jewish intellectual liberal girl. He never really made much of a splash in the States again, though he had a couple of other international hits with the cod-show tune "Lucky Stars" and the quirky "McDonald's Girl."
Now it might seem like faint praise to compare Harlow to a barely remembered folk singer from the 70s, but believe me... it is meant as a compliment. Harlow is also a very talented songwriter who is able to tell a vivid story with his lyrics. Like Friedman, Harlow's voice is a bit too nasal to be considered technically perfect (but then again, such artists as Bob Dylan, Louie Armstrong and Tom Waits have "technically imperfect" voices, so he's in good company.) But once you get used to the voice, it gives a lived-in human feel to the material.
The songs are pretty and as a lyricist Harlow can truly paint a picture with words. The best song on this album is "Far Away," which is actually recorded in two versions, a rockish band version and an bonus acoustic take. While the song is very good as a folky tune, frankly the more fleshed out version blows it away. Also standing out was the lovely ballad "Katy's Gone Away."
It sort of makes you wish that he tried to throw changeups with a few more of the tunes on the album, which are all good but do have the problem of sounding musically (at the very least instrumentally) a little too alike. But, despite this little quibble, The Brief History Of... makes me interested to see what Harlow can come up with next. (4/02)
Jay S. Jacobs
RETURN TO RECORD REVIEWS MENU
Copyright ©2002 PopEntertainment.com. All rights reserved. Posted: April 30, 2002.